Vikings block Bucs' playoff path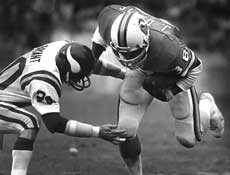 Jim Selman, The Tampa Tribune, published 26 November 1979

Even in a year they can't win it, they are keeping their hands in it by showing the puzzling Bucs another way to lose. Tampa Bay had such an incredible day of errors, it dashed such superlatives as Ricky Bell's 101-yard rushing performance, which made him Tampa Bay's first 1,000-yard season rusher with 1,010 yards, and a record team offense of 425 yards. Twice in the final nine minutes, the Bucs drove toward a touchdown and a tie that would have forced an overtime period and they had to score the one they got twice for it to count. Minnesota halted the first penetration at the 20. Then Doug Williams passes and ran the Bucs from their 25 to the 8, where he threw a touchdown pass to Morris Owens. But it was nullified by a motion penalty against Isaac Hagins.

Then with 27 seconds on the clock, Williams ran to his right, looking for a receiver, saw he had a clear shot and raced 13 yards for the touchdown. He landed on his head in the end zone and may not have been able to play in overtime. Hilgenberg made sure he didn't have to by blocking Neil O'Donoghue's PAT. That kick was somewhat low, but high or low, the Vikings know how to play special teams. They know away the center and have two or three linebackers leap into the path of the ball. Matt Blair had blocked O'Donoghue's first PAT attempt in the first quarter. Then in the third quarter, receiver Robert Steele led three oncoming Vikings and blocked a Tom Blanchard punt to set up a 3-yard touchdown pass from Tommy Kramer to running back Rickey Young. Rick Danmeier missed that extra point and that gave the Bucs the shot at a tie. In the fourth quarter, Kim Baylor blocked a 22-yard O'Donoghue field goal.

It was not all special teams, though. Kramer passed for 158 yards and three touchdowns. Bucs coach John McKay, crestfallen perhaps as never before, exchanged ugly words with a fan when the Bucs went to their dressing room and one angry unidentified Buccaneer punched a hole in the wall that separates the players from the press in the locker room. "I saw nothing that delighted me,'' McKay said after making it plain he's sick and tired of being blamed by fans. Of his three blocked kicks, O'Donoghue said, "I felt like I hit the ball well all day. You win together and you lose together, but I accept the blame for my part in this.'' Blanchard said of the blocked punt, "I knew they were coming. They almost got one before. But I should find a way to get it off.''

Guards Darrell Austin and Greg Horton, blockers on the special-team line, said the Vikings pushed center Charley Hannah back to make way for the leapers. "Different teams rush different ways. That's the way they do it,'' Austin said. "Either one of the extra points would have tied the game. I told Charley I would try to get as much of his guy as I could, but I had a guy over me, too.'' "They had a big surge up the middle,'' said Horton. "They had two guys jumping at the same time. All I heard was a double thud.'' Hilgenberg beamed, "Four blocked kicks is phenomenal in one game. Two in one game is a good day.''

The Vikings had previously blocked three placements in a game. It was an all-around atrocious day for the Bucs' special teams. In addition to the blocked kicks, Minnesota's Jimmy Edwards returned the game's opening kick 83 yards to the Tampa Bay 20 before Rick Berns nabbed him. The defense held and Danmeier missed a 35-yard field goal. And Bucs kick returner George Ragsdale fumbled the third-quarter kickoff, which was recovered by Fred McNeill at the Tampa Bay 31 and set up a 44-yard Danmeier field goal that hit the crossbar and bounced over.

But poor play was not merely limited to the special teams. The Bucs' second quarter was one of their worst ever. The offense made one first down and the Vikings erased a 9-0 Tampa Bay lead and went ahead 14-9 at the half on two crucial mistakes by left cornerback Mike Washington. On the first play after the two-minute warning, Kramer, on third and 21, threw into the left corner of the end zone. Washington was defending between wide receiver Terry LeCount, former Florida standout, who was deep, and running back Ted Brown. Washington looked to have a good shot at an interception, but tipped the ball to LeCount, who was waiting well behind him. Then Washington missed a tackle on receiver Ahmad Rashad, allowing him to carry a Kramer pass 32 yards for a touchdown just 20 seconds before the half.

The first quarter certainly pointed to a big day for the Bucs, despite Edwards' kickoff return. The defense held the Vikings to three yards at the 20 and the offense took over and drove 55 yards in seven plays and scored after Berns recovered a fumbled punt by Edwards. Williams was passing sharply to Owens, who was beating cornerback John Turner. Bell scored from the two. It was so early, Blair's blocked PAT didn't appear to be all that important.

Tampa Bay then drove 82 yards in 18 plays, taking 8:54 and seemed to be in control. But with a first-and-goal at the 4 on play into the second quarter, the momentum shifted. Instead of a 13-0 lead there, the Bucs settled for a 20-yard O'Donoghue field goal and a 9-0 advantage. Ragsdale's fumble made matters worse, but the defense forced the Danmeier 44-yard field goal and the Bucs still had a chance. They drove 66 yards in eight plays to score on an 18-yard run by fullback Johnny Davis, who bolted over Paul Krause on the way (pictured below). O'Donoghue kicked this point.

But then the Bucs couldn't take advantage of an 8-yard punt by Greg Coleman at the Tampa Bay 29 and Blanchard's blocked punt followed. It was 23-16 Vikings after the 3-yard Kramer TD pass to Young, but the defense turned the ball over to the offense at the Minnesota 28 when Kramer lost a snap and Cecil Johnson recovered. Baylor's blocked field goal followed. It was that kind of day. Bell put it well when asked about his 101 yards and 1,010 yards on the season. "It was more bitter than sweet,'' he said.