Taylor Swings Into Action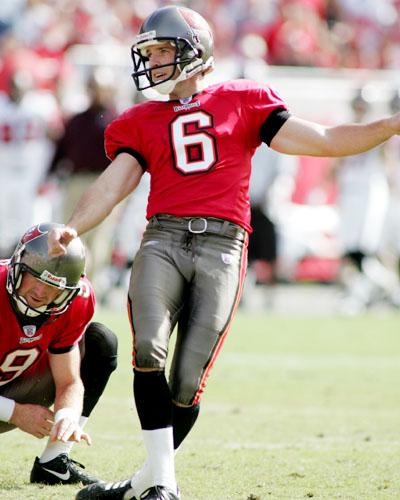 Joe Henderson, The Tampa Tribune, published 6 December 2004

Let's see if we have this straight. Our story begins with Jay Taylor, a forlorn figure on the fringes of the National Football League. For five years he sought his dream job as a kicker of field goals. He got to spend a day or two in several camps, but each time he was told the same thing: Go away. He wound up in the Arena Football League, where you won't get rich. So in between gigs with the Orlando Predators, he tended bar, worked as a landscaper and played a lot of golf. A lot of golf.

Now, the twist to the plot. Martin Gramatica went sour and was sent to that special ring of Dante's netherworld reserved for kickers whose misses cost their teams important games. What to do? Jay Taylor ... this is your dream calling.

He came off the golf course in Orlando, sauntered onto the field at Raymond James Stadium and, of course, nailed a 50-yarder on his first NFL field-goal try. Press box wits noted the kick would have tied an arena league record, but Bucs fans - noted for their knowledge of football - were more on target. They went bonkers when the kick sailed through the uprights. Did someone actually say they don't know football here?

Big finish now. Happy ending. Taylor was 2-for-2 on field goals and hit all three PATs. Do the math. That's nine points, more than anyone else in a 27-0 win against Atlanta. Epilogue: They were his first professional points since he hit a 49-yarder last May for Orlando against the New York Dragons. ``Just a normal story,'' Taylor said with a laugh afterward.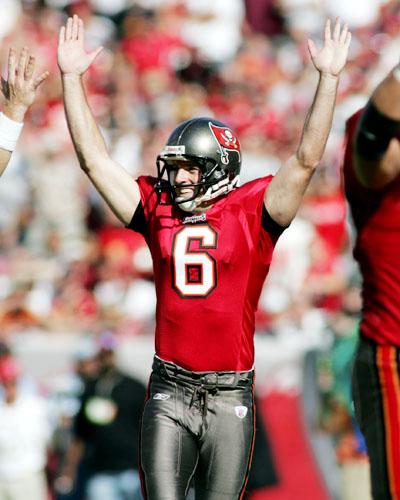 Just another day in Buc land. Well, not really. Trailing by three late in the game at Atlanta on Nov. 14, Jon Gruden went for it on fourth-and-1 rather than let Gramatica attempt a 46-yard field goal. The Bucs were stuffed on the play and went on to lose. But on their first drive of the second quarter Sunday, Gruden didn't hesitate to call on his new kicker when the Bucs faced fourth down at Atlanta's 32. Taylor, as we know, replaced Gramatica after Mar-teen flubbed three field goal tries last week at Carolina. ``I was kind of thinking, `He's coming out for a 50-yard field goal?' '' Brian Griese said.

Yes, indeed. Taylor's first field-goal attempt in the National Football League tumbled over the crossbar with a couple of yards to spare. You'd have thought the Bucs just won the NFC championship as the fans let loose in joyous eruption. ``It's a little demoralizing [for Atlanta] to see a 50-yarder go through,'' Ronde Barber said.

Probably was. It also was a little demoralizing all those years for Taylor as he watched NFL kicking jobs go to someone else. He has talent; he led the arena league by knocking 72 percent of his kicks through that 2-inch opening between the toothpicks that pass for goal posts there. He just lacked opportunity. He had tryouts with Miami, Buffalo, Cleveland, Seattle, and twice with the Bucs, but someone always seemed to be ahead of him. So he passed the time by playing a lot of golf. ``I'm pretty close to scratch,'' he said. The best part of his game? ``I hit the driver pretty well,'' he said.

Gramatica meant a lot to this franchise and he was there Sunday, sort of, for the changing of the guard. Gramatica's picture was on the tickets to the club seat section. No small irony there, since Bucs fans - savvy football observers that they are - know Gramatica's antics over his years here were often worth the price of admission. But they also know reliable kicking would have meant two or three more wins this season, so maybe that's why they cheered so loudly when Taylor was introduced. They cheered more when he ran onto the field. When the highlight of his 50-yarder was shown late in the game, the roar reached to Argentina. ``I'll remember this day for the rest of my life,'' he said.

That was about as close as we got to a spilling of emotion from the new guy. Wave after wave of TV cameras and microphones crowded around his locker, and he told everyone who asked that, no, he wasn't nervous. No, no one said anything special to him before the kick. No, honestly, he didn't feel any jitters. ``I just go out and do my job,'' he said. ``It's pretty routine by now.''

Sorry, Jay. Folks who have spent more time around these parts can tell you there's been nothing routine about the kicking game for the last couple of years, unless you count acid indigestion. ``It's only one game,'' he cautioned, and that's true.

He was living in an apartment in Orlando. He's living in a hotel here. ``As a kicker you never really want to go out and get a place for too long,'' he said.

That's true, but for now Taylor definitely has a place in the heart. Just ask his teammates. ``Welcome to the NFL,'' tackle Kenyatta Walker said. ``I love the guy already.''