Roy Cummings, The Tampa Tribune, published 6 December 2004

Not here. Not in this house. Not on this day. The Atlanta Falcons likely will eventually clinch the 2004 NFC South title, but they weren't going to do it in front of a crowd of Bucs fans at Raymond James Stadium on Sunday afternoon. The Bucs made sure of that. Looking more like a team that could go deep into the playoffs than one that's clawing to get into them, the Bucs dealt the Falcons a 27-0 defeat that also delivered a message to rest of the NFC. That message: We're not done yet. ``We wanted to go out and make a statement, and the statement we made was a big one,'' Kenyatta Walker said. ``We had a team in 2002 that peaked late and went to the Super Bowl. [This team] could do the same thing.''

Don't start mapping out parade routes just yet. At 5-7, the Bucs remain outsiders to make the playoffs. Though they gained ground on some teams Sunday, they are still a game behind the 6-6 Rams for the last wild-card berth. If Sunday's game did anything, however, it left a belief the Bucs could destroy someone else's Super Bowl hopes and possibly go a long way in the playoffs themselves. In a dominating performance that looked like it was pieced together with highlights from their own Super Bowl season, the Bucs limited Atlanta (9-3) to 255 total yards and befuddled wunderkind quarterback Michael Vick.

Vick, who has yet to put together one of his signature big games against the Bucs, fumbled twice and was intercepted twice, including once by safety Dwight Smith on a first-and- goal play from the Bucs' 1. Vick did lead the Falcons' rushing attack with 81 yards on eight carries, but he struggled as a passer, compiling a 29.1 rating by completing just 13 of 27 for 115 yards. ``I've got to take my hat off to them,'' Vick said. ``They maintained a good pass rush against us, got their ends up field and played a great game. They had a great scheme.''

The scheme was the same one the Bucs always have employed against Vick. The difference Sunday is that their all- out pursuit of Vick was never marred by penalties or coverage mistakes. ``We played a complete game and didn't kick ourselves in the butt with mistakes,'' Brooks said. ``We just made a lot of small victories against them; that was the objective, and it worked.''

Brooks appeared to lead the Bucs in small victories Sunday. He had 11 tackles, two sacks, forced a fumble and an interception, and even knocked Vick out of the game for a play. Simeon Rice had a similar run of success - two sacks, two pass defenses, and he stripped Vick to record a forced fumble. Greg Spires had a pair of fumble recoveries. And while Brian Kelly and Ryan Nece joined Smith in recording interceptions (Nece's came late in the game after Vick had been replaced by Matt Schaub) the biggest ``small victory'' came on the first defensive series of the game.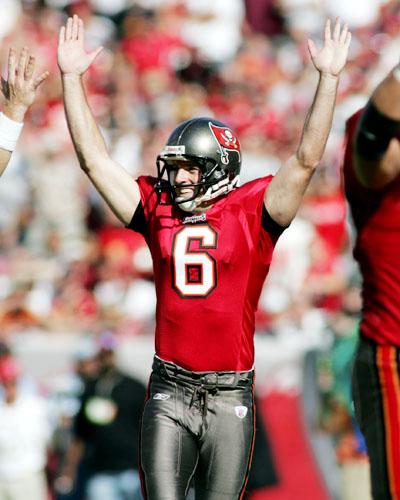 After allowing the Falcons to score on each of their first three drives in their previous meeting - a 24-14 Tampa Bay loss at Atlanta on Nov. 14 - the Bucs stopped Atlanta's first drive Sunday after three plays. ``We hadn't been getting off to good starts, but we wanted to come out and get them off the field right away, and we did that,'' Smith said. ``That was the biggest drive of the game as far as I'm concerned.''

Defensive coordinator Monte Kiffin agreed, adding that what made the stop even better was that the offense took full advantage of the defensive stand by driving 63 yards for a touchdown. The offense didn't stop there. Before the day was out, it had capitalized on all but one of the five turnovers the Bucs forced. ``Scoring off the turnovers was big, but I still think the best thing we did was score off that first drive,'' Brian Griese said. ``That was a good, methodical drive that gave us a lot of momentum. What we have to do now is get to the point where we feel as comfortable on the road as we do here at home in this offense. We feel real good with checks and audibles and stuff here. We have to be able to do the same thing on the road.''

They have to do it fast. The Bucs' next game is at San Diego (9-3), the AFC West leader which took a two-game lead over Denver on Sunday by beating the Broncos, 20-17. The Bucs also have a road game against Arizona at the end of the season. The players realize, however, that their season may be over by then. That's why they've started treating the games they have left as playoff games. ``As far as I'm concerned, we're in sudden death right now,'' said Rice, whose sentiments were echoed throughout a winning Bucs locker room.

``We didn't want [the Falcons] busting out their championship hats at Raymond James Stadium, but that wasn't the real motivation for us,'' Ronde Barber said. ``The real motivation was to stay in the playoffs hunt.''

The Bucs did that by beating a team with a winning record for the first time since blanking Dallas 16-0 last Oct. 26. ``This was a playoff game for us,'' Griese said. ``That's how we're looking at it. We've won our first-round game. Now we have to go on the road and win our second-round game.''