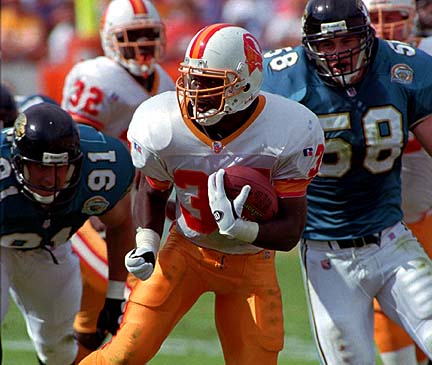 Don Banks, The St.Petersburg Times, published 20 November 1995

It has been there all year. Steady and unspectacular. If not quite the Rock of Gibraltar, then at least Stone Mountain. Nothing new about this day in Tampa Bay. In a story that has grown delightfully old, the Bucs' defense did it again, saving another Sunday in a season of cliffhangers. Despite missing three starters and a key substitute, Tampa Bay's defense made enough plays when it counted, providing the foundation of the Bucs' frantic 17-16 win over expansion Jacksonville.

In snapping its three-game losing streak before a Tampa Stadium crowd of 71,629, the fifth-largest in franchise history, Tampa Bay upped its record to 6-5, setting up a battle for first place in the NFC Central next week at Green Bay (7-4). For the seventh time in 11 games this season, the Bucs were in a game decided by eight points or fewer. Tampa Bay is 5-2 in those games, and the defense again was the difference.

For the second time this season, the hero was cornerback Martin Mayhew. His game-sealing interception of Steve Beuerlein came with 26 seconds remaining, and capped a wild final 3:57 that included the Jaguars marching 96 yards for a touchdown, a gutsy but failed two-point conversion call by Jacksonville coach Tom Coughlin, and the first successful onside kick allowed by Tampa Bay in five years. "Can you believe that?" asked Bucs cornerback Charles Dimry rhetorically. "Can we just win one comfortably? Just one? You can't say the fans don't like it, man. It's enough drama for them."

In becoming just the second team to defeat both '95 expansion teams, the Bucs tied their 1994 victory total of six and gave themselves five remaining shots to snap their NFL-record 12-year streak of double-digit loss seasons. A seventh win would represent the third-most victories in the Bucs' 20-year history. "We made the play when we wanted to, but we certainly gave them the opportunity to beat us," said Bucs defensive coordinator Rusty Tillman, whose unit played without injured starters Mark Wheeler (LDT), Lonnie Marts (OLB) and John Lynch (SS), as well as nickel back Tony Stargell. "It doesn't make me feel warm and gooey, that's for sure, when it comes so close. We're very lucky to win in that situation. We very easily could have lost that ballgame."

A Bucs loss would have been easy to dissect. For the second straight week, Tampa Bay's 28th-ranked offense called it a day in the second half. After building a 10-0 halftime lead on a 33-yard Michael Husted field goal and a 1-yard Errict Rhett dive, the Bucs didn't score again until 8:11 remained in the game, when Rhett finished a 62-yard drive with a 6-yard touchdown run off the Statue of Liberty play.

Tampa Bay had five of its 17 first downs and 74 of its 246 total yards in the second half, when it held the ball for only 11:59. The offensive highlights belonged almost exclusively to Rhett, whose second straight 100-yard day (100 yards, 24 carries) helped offset another tough day for quarterback Trent Dilfer (9-of-20 for 103 yards, no interceptions and no touchdowns). Contrast that to the Jaguars (3-8), who finished the first half with just four first downs, 84 yards and 12:59 of possession time. In the final two quarters, Jacksonville amassed 15 first downs and 234 yards of offense while holding on to the ball for 18:01. In the third quarter alone, the Jaguars outgained the Bucs 146-6. "We had a heck of a first half and we had some rookie mistakes in the second half," Tillman said. "That almost cost us the ballgame."

Tillman was alluding to the damage done by Jaguars rookie tight end Pete Mitchell, who ran amok in the second half, catching nine of his game-high 10 passes for 161 yards. The former Boston College standout, who had a big Hall of Fame Bowl game for the Eagles in Tampa Stadium in 1993, was "covered" for most of the day by rookie cornerback Clifton Abraham, who manned the nickel-back role. "No. 83 (Mitchell) played a great game," Mayhew said. "I don't know who he is or where he came from. But he was killing us."

After getting a 22-yard third-quarter field goal from Mike Hollis, the Jaguars tied the score at 10 when quarterback Mark Brunell scored on a 9-yard scramble on the first play of the fourth quarter. Brunell (15-of-21 for 169 yards) injured a hamstring on the play and left the game in favor of Beuerlein (9-of-12 for 104 yards, one touchdown and one interception). After the Bucs regained the lead at 17-10 on Rhett's second score, Jacksonville mounted its 96-yard drive, which culminated on a 12-yard pass to Mitchell with 37 seconds remaining.

Eschewing the tying point after, Coughlin, a man known for his conservative image, went for the win. But Beuerlein's pass to receiver Jimmy Smith was completed out of bounds, with Dimry in coverage, seemingly locking up Tampa Bay's victory. "I kind of respect him for that," Tillman said of Coughlin. "I think if he would have thrown it quick, somebody was open. That's what I heard. It was a gutsy call."

But the Bucs had one more minidrama to endure. When Jacksonville executed an onside kick, getting it to bounce off Abraham and into the arms of cornerback Dave Thomas at the Jaguars' 42, it looked like too much to ask of the Tampa Bay defense. But on the next play Mayhew stepped in front of Desmond Howard at the Jaguars' 46, finally securing the win. And now, trailing the Packers by just one game, the Bucs take their finest 11-game record since 1979 north to Green Bay. "It doesn't even matter that it's Green Bay," Rhett said. "I don't care if we have to go and play in Beirut. We're coming to play."