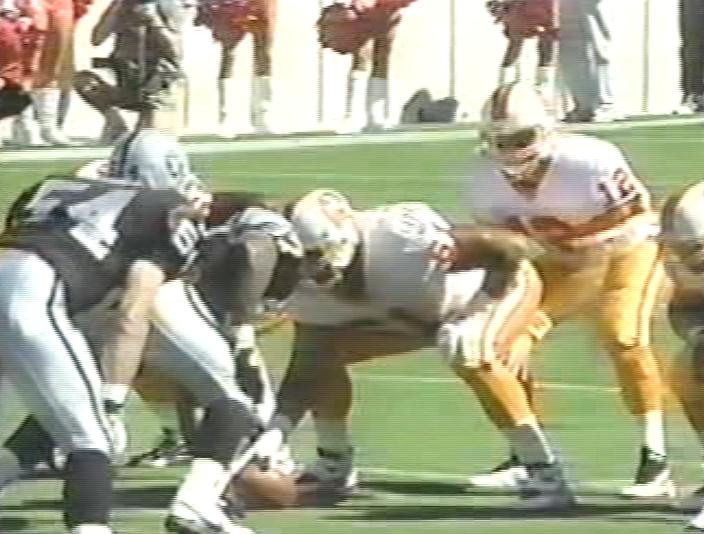 Rick Stroud, The St.Petersburg Times, published 11 November 1996

The Buccaneers kept telling you they were going to straighten out this mess over time. What they meant to say was in overtime. If every game could go to the fifth quarter, the French Quarter would be filled with Tampa Bay fans partying with a Lombardi Trophy come January. That's because in the '90s, the Bucs are 5-0 in games decided in OT.

It was a fact the Oakland Raiders overlooked when Cole Ford inexplicably missed a game-winning 23-yard field-goal attempt wide left with five seconds left in regulation. "I'll tell you what, if you let us hang around too long, we're going to beat you," Bucs defensive tackle Warren Sapp said. "The game was on the line and they gift-wrapped us the game. That's pretty much what they did. Whenever you get one like that, when you've got a second chance at life, you've got to take advantage of it."

Pretty good at self-incrimination, the Bucs didn't mind taking the fifth Sunday. On their second possession of the extra period, the Bucs methodically drove 57 yards in 11 plays to set up Michael Husted's 23-yard field goal to steal a 20-17 overtime victory before 45,392 at Houlihan's Stadium.

Although usually on the other end of such giveaways, the Bucs (2-8) made no apologies after having lost by less than a touchdown in each of their previous three games. "It feels good to win one. We've been close the last three weeks," Bucs coach Tony Dungy said. "You can't always count on them missing a field goal, but maybe it was poetic justice. I think that's the mark of what this team is all about, at 1-8, not giving up and being there in the overtime."

It was the kind of game the young Bucs looked sadly overmatched in, even against a Raiders team (4-6) that continues to underachieve and that was fresh off a one-point Monday night loss to Denver. Four rookies - guard Jorge Diaz, tackle Jason Odom, fullback Mike Alstott and receiver Karl Williams - produced big plays on the game-winning drive. Three other rookies - Regan Upshaw, Marcus Jones and Donnie Abraham - started on a defense that held the Raiders' explosive offense to 271 total yards. "But they weren't intimidated and they went out there and did their job," Dungy said.

Alstott did it all. He totaled 121 yards rushing and receiving while blocking for tailback Errict Rhett, who rushed for 95 yards on 33 carries. The fullback from Purdue led the Bucs in receiving with eight catches for 67 yards and a touchdown while contributing to the ground attack with 10 carries for 54 yards. It was Alstott's catch and run for 20 yards that set up Husted's field goal.

But nobody played better in the clutch than quarterback Trent Dilfer, who finished 20-of-28 passing for 192 yards with two TDs and one INT. For three straight weeks, Dilfer had failed in the final two minutes to take his team on a game-winning drive. And although he showed improvement, his weapons were disappearing. "I could tell he was a little frustrated because Alvin (Harper) was not in and Jackie (Harris) wasn't in and he didn't have a comfort zone like he did with some of the other guys," said Dungy, who met with Dilfer on Friday. "But I said you can't worry about who's in there. They get paid to do their job and they will."

In line for at least a pay cut is Ford, who convinced the Raiders to dump reliable veteran Jeff Jaeger this season. On the sideline before the kick, the Bucs were talking about how Seattle blocked a field goal and ran it in for a touchdown to win last week against Houston. But in reality, they knew the game probably was over. "When I hit it, I knew I lost the game," Ford said. "It's the worst feeling in the world. It's a pretty degrading feeling."

And how did it feel on the Bucs sideline? "Sweet enough to become a diabetic," Sapp said. "That's real sweet. It was divine intervention. It was about time we get a break. We'll take it. For the most part, we dominated the ballgame. We deserved to win and we got it."

The Bucs dominated in nearly every phase, especially time of possession, holding the ball for 48:09 to the Raiders' 23:47. Meanwhile, the defense sacked quarterback Jeff Hostetler four times. But when Ford's kick sailed left, no player had more air pumped out of his lungs than safety Melvin Johnson. It was Johnson's 35-yard pass-interference penalty on James Jett that appeared to have cost the Bucs a shot at victory.

And, it was Johnson's penalty for unnecessary roughness that allowed the Raiders to get close enough in the final 39 seconds for a game-tying field goal before halftime. For the second time in as many weeks, Dungy yanked Johnson in favor of Tony Bouie and berated him on the sideline - inasmuch as Dungy can scold anyone. "I felt like I made a penalty that might've cost us the game," Johnson said. "In the first half, I made a penalty that cost us three points. I don't think there was anybody in the stadium happier than me at that point."

Dungy must have been reading the tea leaves. Knowing that the Raiders were prone to self-destruction, he virtually predicted the Bucs would get a huge break and possibly win in OT. "He said, `Look, here we have a team that's basically going to give us the game if we let them, if we keep our poise they're going to give us penalties, it's going to be a close game,' " Bucs defensive tackle Chidi Ahanotu said. "He actually foresaw all of this. He said it might be an overtime game. Everything he said came true. It was kind of eerie."