Marty Strasen, The Tampa Tribune, published 27 October 2003

Funny league, this NFL. Dallas was not as good as its 5-1 record and Tampa Bay was not as bad as 3-3. Now they're a game apart in the conference pecking order, which still does not seem accurate, although for a while it seemed like two of the surprise teams of 2003 would go on surprising. Bill Parcells had the Bucs right where he wanted them early - trying to escape from deep in their own territory, going the entire first quarter without a first down and trying to prevent Dallas from exploiting their patchwork defense.

As the second quarter began, you half expected Keyshawn Johnson's agent to call a news conference and Warren Sapp to skip over to Cowboys' sideline and start kicking Gatorade in protest. Fortunately for another sellout crowd at Raymond James Stadium (except the many who cleaned the cobwebs off Cowboy jerseys that have spent more than three years in closets), it didn't come to that in a 16-0 shutout win for the Bucs. ``I'm really pleased with our team,'' Jon Gruden said. ``They played really well with their backs to the wall.''

Tampa Bay's defense set the tone, beginning in the second quarter. Jermaine Phillips intercepted Quincy Carter's underthrown pass and returned it 41 yards to set up the game's only touchdown. It came on a Keyshawn Johnson reception, of all things. Anthony McFarland later broke through the Dallas line for a sack, the first of four for the Bucs on the day. Even Sapp recorded one. Many in the stands weren't sure whether to cheer or boo.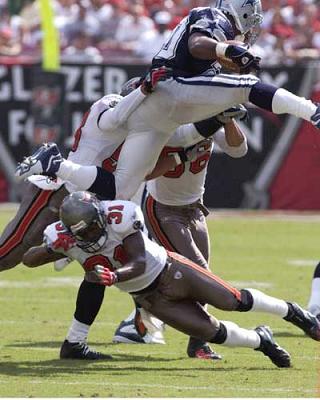 Cheers won out on this day. Dallas made one first down in the second quarter. By the middle of the third, it was clear the Cowboys were in over their heads against a team finally playing like the defending Super Bowl champs. The most impressive aspect of this game was the Bucs' ability to inflict their will on an opponent. That has not happened often in 2003. Lots of teams have beaten the Cowboys thanks to mistakes by Carter. Maybe not this year, but certainly in the recent past. But to see the Bucs hammer away at the league's No. 2 running defense with an offense that has struggled to run the football - now that was impressive.

Michael Pittman is not one of the NFL's premier running backs. Tampa Bay's offensive line is much more adept at pass blocking than it is at opening holes. There was every reason to believe the Bucs would have to win this game through the air. Sunday, the Bucs showed more heart than Dallas. The line kept attacking. There was left tackle Roman Oben, fighting off Cowboys with a broken hand. It was inspiring. Pittman turned each little push into a gain. Four yards here. Three there. A couple of fives and 10s, and a 15 for good measure. It was not the most artistic way to attack a defense. But by the time it was over, Pittman had 30 carries for 113 yards - his second 100-yard rushing game this season and his third in a Buccaneer uniform. ``Michael Pittman is a great football player for us right now,'' Gruden noted.

Production like that allowed Tampa Bay's defense to stay fresh. The youngsters filling big shoes in the secondary had a little more time to absorb sideline coaching from veteran safety John Lynch, inactive with a shoulder/neck injury that needs to heal for the Bucs to make their best run at a championship repeat. But that's getting too far ahead. ``We're a 4-3 football team,'' Gruden said. ``We're not dead. The heartbeat is still pounding.''

The Bucs' psychological wounds from their 24-7 loss in San Francisco last Sunday have started to heal. A victory over New Orleans next week would set up a chance to put some heat on the division-leading Panthers in Carolina the following week. A win there could signal a complete recovery. Beating Dallas was merely a step. One impressive stride toward what the Bucs hope is a better direction.