Scott Smith, Buccaneers.com, published 27 October 2003

The Tampa Bay Buccaneers rebound like Ben Wallace. And, if Sunday's 16-0 victory over the Dallas Cowboys is any indication, they respond to a challenge like William Wallace. For the third time this season and the seventh time in seven tries since Jon Gruden took over as head coach, the Buccaneers rebounded from a loss with a victory. As in Atlanta and Washington earlier this year, those victories have been dominating. The Bucs are now 4-3 after posting their second shutout of the season. Tampa Bay also blanked NFC East denizen Philadelphia, 17-0, in the season opener. "You have to re-establish yourself every week," said Gruden. "We've proven that."

The most important rebound was made by the Bucs' defense. Despite playing with a revamped secondary that featured two second-year players, the Bucs held Dallas to 178 yards of offense, just over half of the 359 yards the NFL's fourth-ranked attack had averaged through six games. A week ago, Tampa Bay surrendered 458 yards of offense at San Francisco, its worst total allowed in 12 years. The Cowboys were the unfortunate victims of the Bucs' lingering anger from that afternoon. "I'm very proud of our team," said Gruden. "A lot of contributors. Defensively we played very well and we made the plays when we needed them on offense. We just hung in there. We knew it was going to be a game of opportunity, and when opportunity knocked we were able to cash in."

Jermaine Phillips, one of the Bucs' new secondary starters, set up the game's first score with an interception, but it was a sequence of plays early in the second half that brought back memories of Tampa Bay's usual defensive suffocation. Two plays into Dallas' first drive, with the Bucs up 10-0, DT Warren Sapp beat his man off the line, losing his helmet in the process. That gave QB Quincy Carter a perfect view of Sapp's snarling face as he dropped him for a 10-yard sack. On second-and-20, big-play master Ronde Barber picked off a deep pass intended for WR Joey Galloway and returned it 24 yards to the Cowboys' 21. The Bucs netted a 26-yard field goal out of the turnover.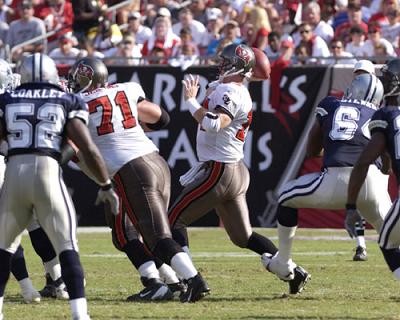 After that, all of the Bucs' usual defensive heroes began taking turns. On Dallas' next possession, DE Simeon Rice tipped away a first-down pass at the line of scrimmage. LB Derrick Brooks made a second-down stop on FB Richie Anderson from his knees. After a successful third-down conversion, DT Chartric Darby pressured Carter into an incompletion, Brooks nearly picked off another pass and DE Ellis Wyms buried Carter for a five-yard sack. With seven minutes left in the third quarter, it was all but over.

Ah, but the Bucs have thought that before. This time, they continued their pressure into the final minutes, finishing off their first home shutout since a 41-0 whitewash of Chicago on September 10, 2000. The above sequence was followed by Martin Gramatica's 50-yard field goal, a season long, giving Tampa Bay a 16-0 lead near the end of the third quarter. The Bucs then stopped Dallas near midfield on a gutsy fourth-down attempt. On the Cowboys' next drive, linebackers Ryan Nece and Nate Webster stopped FB Richie Anderson on a third-and-one run. Impressively, the Bucs denied Dallas on all four third-and-one tries in the game, plus the aforementioned fourth-and-one. Those results were perhaps the best indicator of the defensive intensity with which the team played. All in all, the Bucs held Dallas to three conversions in 12 third-down attempts.


Brooks and Barber led the defensive charge with nine tackles and a pass defensed for the former and eight stops, one interception, two forced fumbles and one pass defensed. The Bucs sacked Carter four times, once each by Sapp, Wyms, Darby and DT Anthony McFarland. With the shutout on the line in the game's final minutes, Barber forced a fumble by RB Aveion Cason, with LB Shelton Quarles recovering.

The Bucs' offense was also held well below its usual totals by Dallas' top-ranked defense, but they made little attempt to go downfield after building a 16-0 lead. RB Michael Pittman finished the game with 113 yards on a season-high 30 carries, many of them into the teeth of the Cowboys' defense in the fourth quarter. QB Brad Johnson was efficient, hitting on 13 of 26 passes for 151 yards, one touchdown and no interceptions, and he pulled out the big play on the few occasions the Bucs needed it. Keenan McCardell led the team with six catches for 68 yards. WR Keyshawn Johnson caught just one pass, but it resulted in the game's only touchdown, a seven-yard sideline grab in the second quarter.

Neither team scored in the first quarter, and the Bucs had only four yards to show for the period, but Tampa Bay's offense got it rolling in the second quarter thanks to a turnover and a little bit of trickery. The Bucs scored first on a 24-yard Gramatica that was set up by Phillips' first career interception. The Cowboys had spent much of the first quarter-and-a-half stubbornly trying to run the ball, a pattern they've often followed with a big passing play this season. When Carter finally went deep this time, Phillips, making just his third career start at free safety, ran in front of receiver Joey Galloway, picked off the pass and returned it 41 yards to the Cowboys' 24. The Bucs couldn't get it in, settling for Gramatica's kick. They originally lined up to go for it on fourth-and-goal from the one before a false start penalty on Pittman moved the ball back five yards.


Seven minutes later, the Bucs finished their next drive in the end zone. Tampa Bay got deep into Dallas territory with a play the Cowboys have used to good effect this season, the flea-flicker. A handoff to Pittman and a pitch back to Johnson opened up the left sideline for a wide-open Ken Dilger, who hauled in a pass on the run and gained 48 yards. This time around, the scoring situation was reversed, as the Bucs lined up for a field goal before a Dallas penalty revived the drive. On second-and-goal, Brad Johnson rolled right and found Keyshawn Johnson at the sideline for a seven-yard touchdown pass. CB Terence Newman originally covered K. Johnson perfectly on his release, but the receiver lost him momentarily with a fake back to the middle, buying just enough separation to make a sliding catch. The Bucs led 10-0, and when they took that advantage into halftime, it marked the first time all season that the Cowboys had been held scoreless in the first half.

Barber had switched to left cornerback, where he may stay for the rest of the season in the Bucs' reorganized secondary. With CB Brian Kelly lost for the season and strong safety John Lynch out for the game with a shoulder injury, the Bucs used second-year man Tim Wansley at right cornerback, Phillips at free safety and Dwight Smith at strong safety. Smith has started at three different spots in seven games, also opening contests at free safety and cornerback. Where Dallas had trouble establishing its running game, the Bucs succeeded. The Cowboys gained just 60 yards on 2 carries, averaging 2.7 per tote while Tampa Bay used Pittman's hard-pumping legs to pick up 128 yards on 35 carries.

The Bucs were also very effective on special teams, led by Gramatica's best day of the season. Gramatica, who had tried just two field goals in the last three weeks – long-shot 60 and 62-yarders against Indianapolis – hit on three of four three-pointers, including the 50-yarder. His lone miss came from 48 yards and was pulled a little to the left. He also put three of his five kickoffs into the end zone, forcing one touchback. Newly-signed CB Hank Poteat made three special teams tackles and the Bucs forced Dallas into an average drive start of their own 27.