The Buccaneer defense has extended its streak of consecutive games with at least one sack to 67, just one off the NFL record. That mark was set by the Dallas Cowboys from 1976-80. Today, it was Cowboy quarterback Quincy Carter on the receiving end of the sack, as he went down in the arms of DT Anthony McFarland in the second quarter. That was McFarland's first sack of the year, giving him 13.5 in his career.

The Bucs also pushed their streak of consecutive games with at least one takeaway to 49 when Jermaine Phillips intercepted a Quincy Carter pass in the second quarter. That streak is the second longest in the NFL since 1983; the longest is Philadelphia's 71 from 1985-90.

Keyshawn Johnson moved into fourth place on the Bucs' all-time reception list with his first catch of the day, a seven-yard touchdown in the second quarter. Johnson moved out of a tie with former tight end Jimmie Giles (279) and finished the day with 280 catches as a Buccaneer.

The Buccaneers still have not lost consecutive games since Jon Gruden took over as head coach in 2002. The Bucs are now 7-0 in games following a loss, including 3-0 this season.

With his third sack of the season, DT Warren Sapp pushed his career total to 75, just 3.5 behind the Bucs' all-time leader, Hall of Fame DE Lee Roy Selmon.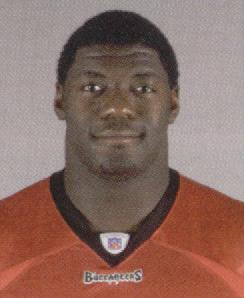 Oben Plays Despite Broken Hand
It was Aug. 31, 1997. The New York Giants defeated the Philadelphia Eagles, beginning the Giants' nine-game winning streak against their division rival. It was LT Roman Oben's first start for the Giants and he remembers lining up opposite Eagles DE Mike Mamula. Sunday, the Bucs' Oben, an eight-year veteran, got his 100th career start. He'll remember that RB Michael Pittman rushed for more than 100 yards. He'll also remember the pain he endured in order to be on the field. His teammates will also remember. One of Coach Jon Gruden's speeches this week mentioned how there wasn't any room on the team for selfish players. Oben showed off his unselfishness by playing with two broken bones in his right hand. ``Big boy got it done,'' said DT Warren Sapp, who suffered a similar injury in 1999. ``I went up to him before the game when I saw him wrapped and I said, `Prepare yourself for this. That wrap right there ain't going to help.' He got it done. I tip my hat to him because he got it done. I've never seen anything like that before.'' Oben broke his hand in Thursday's practice during one-on-one line drills. Sunday, he wore a makeshift cast, composed of padding and tape, which didn't provide much protection. ``I didn't want my injury to be a distraction,'' Oben said. ``I'm just glad we won because the story looks better if you win.''


Running man
The Bucs opened Sunday's game with three consecutive running plays. Pittman up the middle. Pittman behind left guard. Pittman behind right end. It was a sign of things to come. Tampa Bay ran the ball 35 times, compared to 28 passing plays, producing 128 rushing yards - their fourth 100-plus game this season. Dallas entered Sunday's game with the NFL's No. 1-ranked defense (No. 2 against the run), allowing 75 rushing yards per game. ``We kept pounding and pounding and I kept running,'' Pittman said. ``The offensive line blocked great for me and I just kept hitting the holes.'' Pittman rushed for a season-high 113 yards on 30 carries. It was his second 100-yard game this season. He rushed for 106 yards against Indianapolis. ``Mike Pittman is a great football player for us right now and clearly a loaded option we try to get the ball to,'' Gruden said.

Shut up and out
Tampa Bay's defense shut down Dallas, the league's No. 4 offense, which had been averaging 25 points per game. The 16-0 victory was the eighth shutout in franchise history and second of the season (17-0 vs. Philadelphia in the opener). The Bucs' offense twice settled for field goals when it was inside Dallas' 10-yard line. ``The score was not as bad as it could've been,'' Dallas coach Bill Parcells said.

Injury update
The Bucs are expected to get WR Joe Jurevicius (knee sprain) and SS John Lynch (neck stinger) back this week. Both players watched Sunday's game from the sideline. After several weeks of multiple-player injury lists, the Bucs' lone injury from Sunday's game was CB Hank Poteat, who suffered a right hamstring strain. Backup OL Kerry Jenkins started at left guard in place of the injured Jason Whittle (shoulder strain). Whittle played sparingly.