Honesty compels: Bucs far from good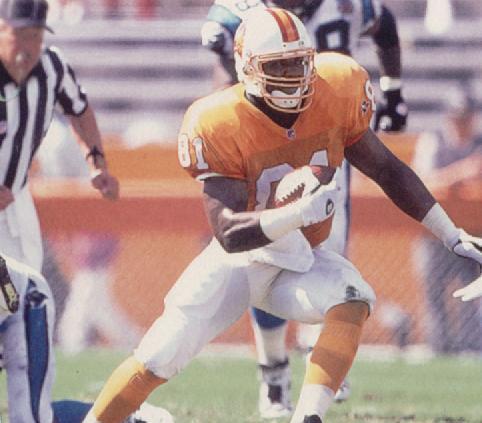 Hubert Mizell, The St.Petersburg Times, published 2 October 1995

Bucs win! There's little else to blow from the Tampa Bay trumpet. Winning ugly does beat losing pretty. Trent Dilfer was knocked silly, but Casey Weldon came out of Tampa Bay's bullpen to get a nice save. Carolina's NFL infants dramatically outplayed the Bucs, failing to celebrate Win One only due to four Panther-party-pooping turnovers.

Let's be candid, no matter Sunday's bottom line for Tampa Bay. Today's newspaper reaffirms that the Bucs have a 3-2 record, rising within a half-game of the NFC Central lead, but did they really approach levels of proficiency that would suggest a rare non-losing Tampa Bay record is likely in 1995? Not if we're honest.

Let's you, me and Diogenes lend our skeptical ears to the Bucs' locker room, checking to see whether they know what we know. That the defense must be 25 or 30 percent more efficient, plus their offense getting maybe 40 percent better, if this is to legitimately become "A New Day in Tampa Bay."

Don't bother asking Sam Wyche. Tampa Bay's coach was a bit lower on the sugar than usual Sunday, but he is prone to goody-goody analysis. He can sound like a commentator who's coming from somewhere between Capitol Hill and Fantasyland. But, from elsewhere in the Bucs' lair, from Dilfer the kayoed QB and from newly imported Tampa Bay defensive coordinator Rusty Tillman, you and I and lamp-swinging old Diogenes found there is candor and realism that simmers among the people who are paid to put owner Malcolm Glazer's product on the field.

"We s-----," said Tillman, whose defense had been the reasonably stable axis around which Tampa Bay's early season had rallied. "We've got to be more disciplined and learn to play our defense the right way."

Steam came from his ears. "It's the worst game I've ever been around as a defensive coach," Tillman assessed. "You're not going to win much in the National Football League playing like that. I chewed their butts out at halftime. They'll get it again Monday. You've got to be hungry every single day. What happened out there was embarrassing."

Were the Bucs lucky to escape? "Big time," Tillman said.

I liked the fire coming from Rusty's nostrils. I loved his Rusty honesty. So often, I've wondered whether the Bucs needed more coaching bootprints on their behinds. I'm not suggesting that Wyche, Tillman and coaching comrades should constantly come after players with an angry ax. But, without question, all 53 of Tampa Bay's employed athletes should understand, in case some are prone to residence in Giddy Land, that the Bucs must dramatically turn up their defensive and offensive flames from Clemson Sunday. I mean, if these fellows really are serious about going from double-digit-loss seasons to legitimate accomplishment.

Now let's move over to Dilfer's stall, where the struggling Tampa Bay quarterback is gulping Advil to fight the smashing headache that followed his Carolina-created concussion. Tone down your lamp, Diogenes, the kid's eyes are killing him.

But, even in pain, while remembering little from a game that had bang-bonged him into mental oblivion, Dilfer nonetheless had an accurate and admirable view of where the offense stands, plus where it needs to be. "We aren't putting drives together like we should," Dilfer said, showing Tillman-like openness. "We don't really know what's causing our breakdowns. We have a good, experienced offensive line. Our receivers are great. Errict Rhett can really run."

Veteran center Tony Mayberry dittoed Trent's concern. "We've not been satisfied all season with our offensive production," the sixth-year pro from Wake Forest said. "We're not completely on the same page. We have not at all played to our ability."

Back to the dinged QB. "We're just not getting the job done," Dilfer said. "I am absolutely part of the problem. I've got to learn faster and do my job more efficiently. It makes no sense of our offense to be as off-key as it has been. If we continue to play offense like this, we are never going to turn our 3-2 record into a 6-3 or some other numbers that are really good."

But the Bucs did win. They are 3-2, a half-game behind the division-leading Green Bay Packers. Let's keep some perspective, both pro and con. Another thing: Weldon, despite taking only one snap in practices in the weeks leading to Clemson, did enough good work to get the turbulent Tampa Bay ship steered past the baby Panthers.

Embarrassment was heavily threatened. "We've got to play better, but it's a great feeling for me," said Weldon, a former Florida State quarterback in his fourth NFL season of waiting his turn to play. "I probably learned more from this game than from the rest of my pro football career."

Dilfer had a puny 3-for-12 passing afternoon, although some footballs were thrown after he'd been knocked silly. Weldon completed 9 of 20. It was just enough to keep the Bucs from being sunk by a franchise that has never won a game.

Weldon's first appearance was a one-play cameo. Dilfer then returned, having convinced Wyche that he was okay after being smacked in the head. Casey became openly angry at his head coach. "I knew Trent didn't know where he was," Weldon said. "How did I know? Well, Dilfer looked twice as goofy as he usually looks." Casey grinned. "Quote me on that," he added. Weldon's relationship with Dilfer is competitive but extremely friendly. Casey did some really good work," Dilfer would say, "but he needed to do something right, after the way I hammered him playing cards Saturday night."

They'd beaten Carolina. Escaped the first-year Panthers. But everybody knew in the locker room, at least being honest with themselves, that production must improve if 3-2 is to grow into something really good.