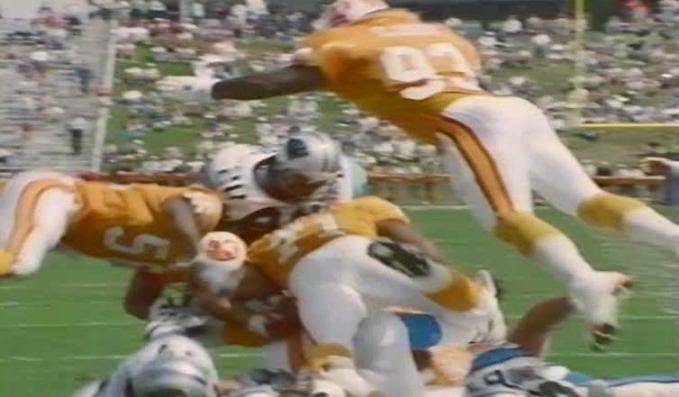 Don Banks, The St.Petersburg Times, published 2 October 1995

It is said that winning cures all ills in the NFL. But Bucs defensive coordinator Rusty Tillman was sickened by even the suggestion that he could enjoy the fruits of Tampa Bay's 20-13 win over expansion Carolina on Sunday.

"We s----- on defense today," Tillman said. "This was the worst damn game that I think I've ever been involved with (on defense). The only thing that saved our a-- today was we took the ball away four times. I'm not happy about it. I think it stinks. You're not going to win in the NFL if you play that kind of defense. You can tell me all that stuff about, `Hey, we're playing the Panthers, an expansion team, they're 29th in the league in offense.' But if you fall prey to that you can't play. If our guys can learn from it, fine. But they should have known it going in."

Tampa Bay's defense allowed the Panthers 393 yards of total offense. Carolina entered the game ranked 29th in the NFL in offense, averaging 239.7 yards. Rookie quarterback Kerry Collins, making his NFL starting debut, was not sacked, and completed 18 of 32 for 234 yards, one touchdown and one interception. Asked if Collins looked like a rookie against the Bucs, Tillman said: "Collins is a rookie quarterback. I thought we looked like a rookie defense."

And what of Carolina running back Derrick Moore, he of the 21-carry, 123-yard rushing performance? Tillman said his career-best game - he began the day with just 521 yards rushing in four NFL seasons - was a byproduct of the Bucs' undisciplined defensive traits. "It was the same thing that happened against Chicago," Tillman said. "They were hitting us on the cutback. We've just got to learn how to play. Everybody wants to run over to where the ball is and they vacate their area on the backside. We have to get to be a little more disciplined and learn how to play the damn defense the right way."

While others, coach Sam Wyche included, chose to dwell on the positives of Tampa Bay's third win in five games, Tillman said his defense will not take satisfaction in averting a humiliating defeat. "It's not going to be a false sense of security," Tillman said. "What happened to us today is totally embarrassing in my opinion. They (the Panthers) are hungry. They wanted it more than we did. It's so obvious. They're not a better football team than us. But they certainly were today. That's what bothers me. You have to play every single week. That's what you get paid for. We didn't play this week."

In its first six quarters of the season, Carolina outscored its opponents 26-23 and had a plus-5 turnover ratio. In their next six quarters, the Panthers were outscored 62-13 and had a minus-8 turnover ratio. After seven turnovers in a 31-10 loss to the Rams two weeks ago, Carolina's four-turnover day (three fumbles and one interception) doomed it again. "It was a dogfight," said Bucs defensive tackle Santana Dotson, who had two tackles, one pass defensed and forced a Moore fumble at the Tampa Bay 1. "I'm just glad we came out with the victory. It might have been sloppy or ugly, but we did the things defensively, especially in the fourth quarter."

Much as it did last week against the Redskins, when a goal-line stand saved the game in the dying seconds, the defense responded with its back to the wall against the Panthers. Carolina drove within 22 yards of a game-tying touchdown, but on fourth and 9, Collins threw incomplete after being pressured by defensive end Toddrick McIntosh. "That's two weeks in a row we've buckled down," defensive tackle Brad Culpepper said. "Actually there was no point in that game where we didn't think we were going to win. Maybe in the past guys think, man, it's the same old, same old. But at halftime we knew we should have been up by 20 points. We never thought we were going to lose to this team."