They're 4-0 and counting . . .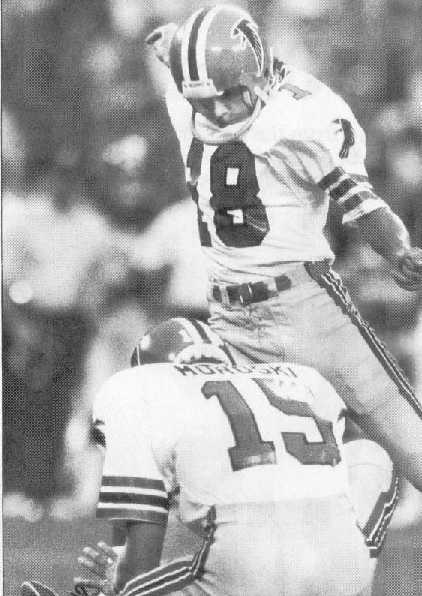 There was blood, sweat and tears during and after 71 minutes of gutwrenching football on an oven-hot grass field in Tampa Stadium. When it was over, the Atlanta Falcons literally dragged themselves to the locker room with the only perfect 4-0 record in the history of their franchise, thanks to a 34-yard field goal by Mick Luckhurst in sudden death overtime. They did it again, them high-flying birds: Falcons 23, Tampa Bay 20. Guess who's in first place alone in the NFC West?

The Falcons - that's who - but they had to wake up from a nightmare to do it. They trailed 20-7 at halftime. They clawed back to 20-17 and got a leaping interception from strong safety Wendell Cason with 2:20 left in the fourth quarter. Ball at the Tampa Bay 46, the Falcons faced a crisis on fourth-and-two at the 38. Quarterback Dave Archer (19 of 36, 246 yards) was chased back to his own 45, before he just eluded a sack, and fired a 22-yard completion to Sylvester Stamps at the 23. Hearts pounded.

The Falcons moved forward. With 12 seconds left, Archer threw an apparent five-yard winning touchdown pass to rookie Floyd Dixon. But wait. The Falcons' Cliff Austin, who would later make the game's biggest run, was penalized for offensive pass interference and no score was allowed. With four seconds left, Luckhurst lined up to kick a 34-yard field goal. A Tampa Bay defender slipped through to get a hand on the kick. Somehow, the ball squibbed through the uprights as time ran out. The Falcons were alive for sudden death.

Alive and winners, but barely breathing after a terrible first half. There were penalties, four fumbles and poor use of the clock as the half ended with the Falcons failing to take advantage of three timeouts. The defense got a sensational tongue-lashing from defensive coordinator Marion Campbell, who erased his chalkboard for effect and made no X's and O's adjustments. "At the end, he basically said, `If you have any guts, go out there and shut them out,' " said defensive tackle Mike Pitts. "And we did."

Oh, how they did. The Falcons, who surrendered 255 yards in the first half, dominated the second half, holding the Bucs to 67 yards while the offense rolled up 300. When it was over, the Falcons had a 490-322 total offense advantage. It wasn't that easy. It was an alley fight. The offense sputtered against an inspired Tampa Bay defense, but it fought 52 mighty yards to set up the dramatic finish. Luckhurst guided his winning kick just through the uprights with 2:25 remaining in overtime. "That kick was headed out of the left goal post," said tackle Mike Kenn, who had a good view. "Then it just dipped back in. Last year, that ball dips out."

Last year, and the year before, the Falcons won just four games. They have matched that effort in the first four games of the 1986 season. Amazing. "We've come from behind twice in the last minute in the last two weeks," said tackle Brett Miller. "Last year, I guarantee you we would have lost this game."

The Falcons almost did everything to lose it, perhaps feeling the effects of their emotionally-draining 37-35 win over the Dallas Cowboys last week. "We got a cold slap in the face today," said guard John Scully. "This ought to bring us down off our euphoria."

The Falcons lost that euphorhia by the time they had to mount their winning drive. Both sides had the ball for one series in sudden death and had to punt. Two critical plays by defensive backs Cason and David Croudip forced the Tampa Bay punt that gave the Falcons the ball at their own 33 with 8:54 remaining in overtime. The Falcons, who flirted with disaster behind Archer, went back to the basics. They blocked hard. They ran the football. They executed beautifully. Archer's eight-yard bootleg run and an exhausted Gerald Riggs (129 yards, 27 carries) got the Falcons to the Tampa Bay 47. Palms got sweaty. "There was a feeling of urgency at that point," said right guard Bill Fralic. "We had to do it right then."

A fresh Cliff Austin replaced Riggs in the backfield. The offensive line moved the Buccaneers off the ball. Austin ran 20 yards to the 27, but a holding penalty brought it back to the 46. No problem. Two plays later, Austin ran 22 yards to the Tampa Bay 21. Riggs returned to the field and got the Falcons to the 13. He was thrown for a loss to the 15, and fourth down brought Luckhurst to the field. His kick was good, and Tampa Bay (1-3) was heartbroken. "It's hard to take a loss that way," said Bucs' safety Craig Swoope. "Heartbreaking, really."

Lifesaving for the Falcons, who return home next Sunday to face Buddy Ryan's Philadelphia Eagles. "I don't really know what happened, except that Tampa Bay played a great game," said linebacker John Rade. "I hope we learned our lesson. We've got to be ready to play from the start."

The Falcons had trouble containing Tampa Bay quarterback Steve Young in the first half. Young personally had 191 yards total offense. He threw for a touchdown and ran 21 yards for another score after Archer lost a fumble. The Bucs had allowed only a 27-yard touchdown pass from Archer to rookie Floyd Dixon in taking their 20-7 halftime lead.

Archer did get his act together in the second half, driving the Falcons to a touchdown with 34 seconds left in the third quarter to make it 20-14 on a Riggs' one-yard touchdown run. Archer also got the Falcons in position for a 43-yard Luckhurst field goal to make it 20-17. "I was not up to the quality that I should be," said Archer. "And we made some big mistakes, things we need to eliminate. But I don't think we took Tampa Bay easy. I just think they have a great defense and a much better team than people are giving them credit for."