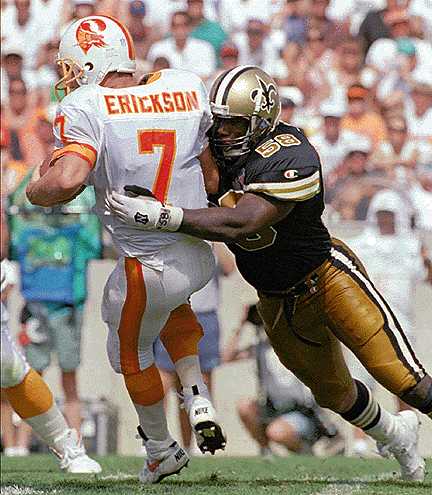 Rick Stroud, The St.Petersburg Times, published 19 September 1994

A time will come when two in a row does not just refer to the Buccaneers' attendance. Quarterback Craig Erickson, a bandage on his chin and his right shoulder bearing the scars of five sacks Sunday, can't always talk about getting in the end zone as if it were walled and covered with barbed wire. The wind - not exactly gusting at 6 miles per hour at kickoff - can't always be in Michael Husted's face when his game-winning, 54-yard field-goal attempt falls short and to the right as time expires. Or can it?

Before the Bucs can be a playoff team, they'll have to learn to win back-to-back instead of coming face-to-face with failures like Sunday's 9-7 loss to New Orleans. Facing a previously winless Saints team whose defense was ranked 26th in the NFL, the Bucs blew chance after chance to escape with a victory before 45,522 fans at Tampa Stadium. But three field goals by New Orleans placekicker Morten Anderson and some questionable play calling was enough to give the Saints their first win of the year.

"I could've had a better day. I was a little bit off," said Erickson, who struggled to complete 17-of-32 for 176 yards and a TD. "They put it on my shoulders to beat them and I didn't do it. (One touchdown) is definitely very sub-par and we're going to have to take a good look at it because we're going to have to do a much better job at scoring some points. Our defense played way too good today to let them down like that."

A quick look at the stats makes you wonder, who won this game anyway? The Bucs' defense held New Orleans to just 100 total yards in the second half while their offense controlled the ball for 10:24 in the fourth quarter. And Tampa Bay got about a zillion chances to put the game away.

Facing fourth and 27 at his own 19 with 1:06 left in the game, Erickson completed an improbable 28-yard pass to Willie Green for a first down. On fourth and 14 at the Saints' 47, the game appeared to have ended when Erickson threw incomplete to Courtney Hawkins. But cornerback Tyrone Legette was called for pass interference to give the Bucs a first down at the New Orleans 36 with 1 second left on the clock.

Husted had been ordered to fake a possible game-winning field goal from about the same distance and pooch punt the ball out of bounds late in the third quarter. That was only one of the questionable decisions by Bucs coach Sam Wyche, and it came back to haunt when Husted's 54-yard attempt fell short as time expired. Wyche defended his preference for not attempting a field goal late in the third quarter. "It was into the wind for one thing," Wyche said. "It was just a little too long and the wind was blowing. Just the luck of the draw, we try to take the wind in the fourth quarter and the wind shifts and he was kicking into the wind rather what we hoped would be a tail wind in the fourth quarter."

Wyche also is bound to take heat for his decision not to sit on a 7-6 lead just before halftime. Backed up at their own 15-yard line with 1:46 left in the half, Wyche ordered two passes down field that fell incomplete, using just 51 seconds off the clock before punting. The Saints used the field position and a 31-yard completion from quarterback Jim Everett to tight end Wesley Walls on first down to set up Anderson's third field goal - a 43-yarder which proved to be the game-winner. "They had two timeouts left and they had 25 seconds left when they scored," said Wyche. "That wouldn't have mattered."

However, Erickson had a different opinion. "Obviously, it was a mistake that probably cost us the ballgame," Erickson said. "I probably should've kept it underneath and concentrated on getting one first down. I just thought I had a chance with Horace Copeland on the long (pass)."

Meanwhile, the Bucs' defense was shutting New Orleans down. When Tampa Bay fullback Rudy Harris fumbled at his own 18, the defense held the Saints to a field goal. Everett, who entered the game second in the NFL with more than 700 yards passing, seemed content to dump the ball underneath instead of going deep to speedy wideouts Quinn Early and Michael Haynes. Everett suffered a groin pull and did not start the second half. He was replaced by Wade Wilson, who went 9-of-12 for 68 yards and failed to move the Saints in relief. "We're playing good football, now we've got to take that next step," said linebacker Hardy Nickerson. "And that means when you've got a team like the Saints, you've got to put them away early."

The Bucs' special teams, which entered the game last in the NFL in kickoff return yardage, did little to improve that Sunday and put Tampa Bay in the hole early. Still, Erickson and the offense had the Saints where they wanted them. A poor punt by Tommy Barnhardt put the Bucs in business at the Saints' 44, trailing 9-7 with 3:24 left in the game. Running back Vince Workman gained 5 yards on first down and Tampa Bay only needed to move the chains once to get Husted close.

But rookie Errict Rhett was stopped for 1-yard on second down and Erickson twice fired incomplete, forcing the Bucs to turn the ball over on downs. "It shouldn't have come down to a field goal," said Hawkins. "That's putting a lot of pressure on that kid. We felt we were rolling on offense. You're very fortunate in the NFL to beat someone just kicking field goals. You live and die scoring touchdowns. How many games are won just kicking field goals?"

A couple other things stood out in this game. Saints linebacker Darion Conner had three sacks, and beat both Bucs right tackles - Tim Irwin and Charles McRae. Irwin showed all of his 14 years in the NFL Sunday and was overcome by heat. On the final drive, the Bucs had to overcome a holding penalty and a sack allowed by McRae before Irwin returned to the position. "Tim just needed a blow for a couple of plays," McRae said. "I didn't go in there and set the world on fire, by any means. I had the holding call and gave up the sack. They put him in there and it was an understandable move."

And Husted wasn't making excuses for the missed field goal - long even by his standards. "You make some, you miss some, and I missed that one. It happened to be at the end of the game, so there's a lot more attention on it."

There also will be more attention on the Bucs' struggling offense as they head to Green Bay next week.