All hands on deck! Bucs sinking fast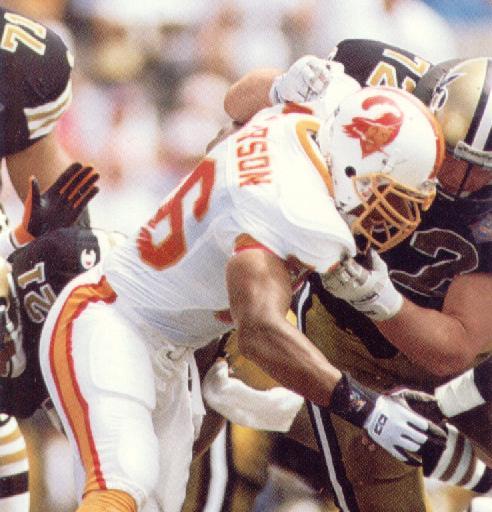 Hubert Mizell, The St.Petersburg Times, published 19 September 1994

It was a calamitous, classic Tampa Bay version of "Can't Stand Prosperity."

Seven days before, the Bucs had heroically stayed afloat, out-racing Indianapolis for a 1-1 record. Sunday was an opportunity for the Bucs to victoriously swim. Instead, they take a dive.

Tampa Bay could've tied for the NFC Central lead. Could've made inroads in convincing America that Tampa Bay is no longer a laughable NFL loser. Could've enthralled 45,522 patrons, making them eager to return to Tampa Stadium next time and bring their friends. Instead, the Bucs drown.

They're 1-2 with losses to New Orleans and Chicago, two teams the Bucs should've beaten. They should be 2-1 at the worst, maybe even 3-0. But they're yet to shake being Buccaneers, so the record is 1-2 with the schedule about to dramatically toughen. Next up is Green Bay, the highly touted Packers (1-2) who will be ravenous to win at Lambeau Field. Then it's NFC Central defending champion Detroit at Tampa Stadium, followed by severe road examinations at Atlanta and San Francisco. I've felt for months that to threaten an 8-8 season, Tampa Bay needed to be 4-2, or for sure no poorer than 3-3 before meeting the 49ers. After the failure against the Saints, that seems a huge stretch. So does a .500 record.

Tampa Bay defenders held New Orleans to three field goals. Blame them for just two. One of Morten Andersen's kicks came after a Rudy Harris fumble at the Bucs' 21, his team's first 1994 turnover. Bucs defense was plenty good enough to win. Those guys deserved to celebrate, but they were let down by Sam Wyche, Craig Erickson and a Tampa Bay offense that was pointless in the second half. Bucs defenders wouldn't say that, in the interest of team unity. There was a lot of grimacing and shrugging. Want to guess what they were thinking?

It's funny, though . . . had Michael Husted pulled off a 54-yard howitzer of a field goal at Sunday's final gun, tens of thousands would've left Tampa Stadium in a delirious, grinning conga line. People like me would be characterizing it as a miracle finish, blessed where so many Bucs last-gasp efforts have been cursed. Symbolic of a new and victorious kind of Bucs team.

But noooooooooooooo! Instead . . . a funeral procession. "When you lose," said Bucs defensive lineman Brad Culpepper, "you obviously haven't done enough." Lonnie Marts, a free-agent linebacker imported from Kansas City, rued a lack of Tampa Bay sacks, but credited the Saints for "changing up with lots and lots of screen passes to greatly cut down our chances of getting to their quarterback."

Hardy Nickerson was distraught, yet perspiring with a touch of professional pride. "We fought hard throughout a hot, tough afternoon," said the Pro Bowl linebacker. "We got stronger as the game went on." New Orleans was shut out in the second half. "At 2:24 of the final quarter, our defense took the field knowing we had to get the football back," Nickerson said. "One last chance for our offense to pull out the win."

Twenty-nine seconds later, the Saints had been stuffed by Bucs tacklers. New Orleans punted. Tampa Bay's offense was about to benefit from two outrageous, longshot successes. On fourth and 27, a 28-yard Erickson pass magically found Willie Green's hands. With 0:01 remaining, another fourth-down throw failed, but Saints cornerback Tyrone Legette was flagged for interference. Husted had the ill-fated, 54-yard shot at a wondrous pullout.

Clunk! "My guys played hard," said Bucs defensive coordinator Floyd Peters. "But we've got to create more turnovers and quarterback sacks to do any real good. Our opponents aren't being forced to pass enough, getting desperate to move the ball downfield. New Orleans got away with playing conservative, grunting out just enough yardage with high-percentage screen passes, which makes it more difficult to sack the QB. They almost never went deep. They got away with nickel-and-diming us."

It was a no-turnover, no-sack, no-joy Sunday for Floyd's fellows. Jeff Brady muffed an interception chance deep in New Orleans territory. "You've got to catch those," Peters said, "especially when it hits you in the hands. One interception will lead to two and three. We need to break loose."

Tampa Bay's secondary, enriched by free-agent safety Thomas Everett from Super Bowl champ Dallas, played superbly against the Saints. When the big stop was needed, Everett was repeatedly the hurrahed tackler. Peters shuttled a half-dozen defensive linemen, partly due to injury-nagged Eric Curry and Mark Wheeler. "It's so hot, you have to interchange guys to keep them even semi-fresh," said the Bucs' professor of defense.

"Santana (Dotson) played so much against Indianapolis we had to feed him three IVs during the game. This loss hurts a lot. But don't give up on us. These Bucs are different than in the past. They keep fighting; they play real hard; they really compete. It's got to get better. Sacks and turnovers will help a great deal."

That, and more than seven points.