Game gets away when offense has slow start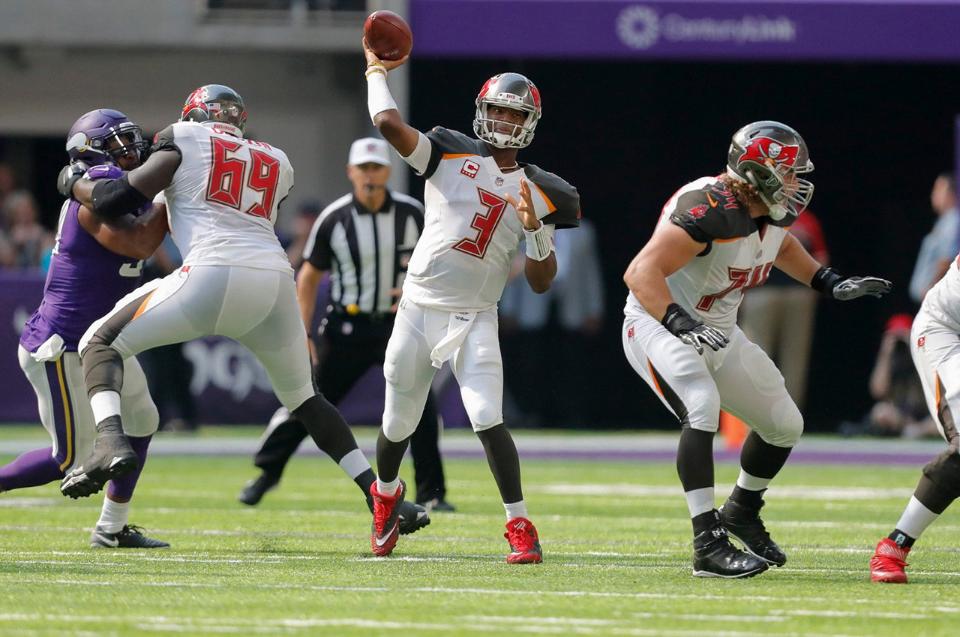 Greg Auman, The Tampa Bay Times, published 25 September 2017

While the Bucs defense struggled to handle multiple starters out with injury, Tampa Bay's offense had no such excuse in struggling to score three points in the first half of a 34-17 loss at the Vikings.

"We left a lot of opportunities on the table, guard J.R. Sweezy said. "We didn't play to the level we are able to. It was a slow start, and we eventually got it going, but it was too late." The Bucs got a field goal from their opening drive, but the next five possessions resulted in five total first downs, four punts and an interception; in that span, the Vikings extended their lead to 28-3, putting the game out of reach three minutes into the second half.

"We played bad football," said Ali Marpet, who had some snaps off the mark to Jameis Winston in his first road game at center. "We had to get off the run game, which is frustrating as any offensive line, because that's what we want to do to change the game in our favor."

Tampa Bay went 0-for-4 on third downs in the first half, giving Minnesota a huge edge in time of possession and putting more of a burden on a shorthanded defense.

No run game
The early deficit forced the Bucs to abandon the running game, so Jacquizz Rodgers had just 15 yards on five carries. The Bucs rushed for just 26 yards as a team, a low in the 34 games since now-coach Dirk Koetter arrived as offensive coordinator in 2015. The Bucs failed to rush for a first down — they've done that only one other time since 1999 (a 2014 loss to Lions) and across the NFL, that happened four times in 256 games last season.

Big play
Lakewood's Bernard Reedy provided a spark in the return game, taking a third-quarter kickoff and returning it 50 yards down the sideline, setting up the Bucs at the Minnesota 46 for what would be their first touchdown drive. The return is the longest the Bucs have had on any kickoff since 2012, when Arrelious Benn had a 55-yard return. Reedy, who made his NFL debut in last week's opener, also had his first offensive touches, with a 6-yard catch and a 3-yard carry.

The depleted
The Bucs opened the game without three defensive starts in DT Chris Baker (illness), LB Kwon Alexander (hamstring) and CB Brent Grimes (shoulder), and six other defensive players were sidelined during the game — DE Robert Ayers, DE Noah Spence, DT Gerald McCoy and CBs Vernon Hargreaves and Ryan Smith all left and later returned. LB Lavonte David was carted off with a left ankle injury and didn't return; X-rays were negative.

This and that
Winston threw for 328 yards — three of his four highest passing total in his NFL career have come in losses to Case Keenum. … Rookie Chris Godwin had his first NFL catches, finishing with three for 44 yards. … Tampa Bay had only six third downs the entire game, their fewest since a 2000 win against the Vikings. The Bucs converted one. … The Bucs defense had zero sacks, zero takeaways and two tackles for loss in 70 snaps against the Vikings offense.