Keenum continues his mastery of Buccaneers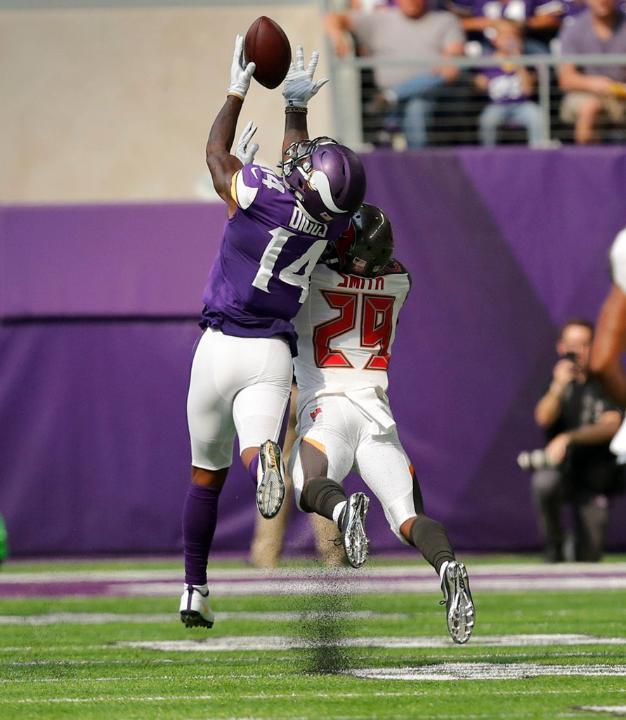 Roy Cummings, Florida Football Insiders, published 25 September 2017

One day, quarterback Case Keenum will be able to tell his grandchildren that, yes, he did play in the NFL. And while heíll have to admit that while he didnít play much, he sure as hell knew how to beat the Tampa Bay Buccaneers when he got the chance.

Keenum, who had twice beaten the Bucs as a member of the Rams the past two years, stepped into the Vikings lineup for an injured Sam Bradford on Sunday and continued his mastery over Tampa Bay while leading Minnesota to a 34-17 victory at U.S. Bank Stadium.

Taking advantage of a defense that was missing a starter at every level and struggled to contain rookie running back Dalvin Cook, Keenum completed 25 of 33 passes for 369 yards, three touchdowns and was never intercepted on the day. ďItís very frustrating,Ē Bucs defensive tackle Gerald McCoy said. ďWe just canít have that. We definitely canít have that.Ē

Keenumís big game came a week after the Bucs defense completely controlled a game against the Bears in their season opener, allowing just 20 yards rushing and taking the ball away three times while posting a 29-17 victory. The Bucs struggled from the outset in this one, though, allowing Cook to gash them for sizeable gains while Keenum lit up the secondary and in particular second-year cornerback Vernon Hargreaves for deep passes to what many consider to be an average receiving corps.

The biggest beneficiary of Keenumís work was Stefon Diggs, who caught eight passes for 173 yards and two touchdowns. Cook, meanwhile, accounted for more than 150 yards of total offense. The Buccaneers came into the game a little beaten up on defense and the Vikings immediately took advantage, mixing runs to Dalvin Cook with deep strikes downfield to build a 21-3 lead at the half.

The kill shots in two of the three touchdown drives were deep passes, the first a 45-yarder to Adam Thielen on the first series, the second a 47 yarder to Stephone Diggs on the last series of the half. Thielenís catch set up a 1-yard touchdown plunge by Cook while Diggs deep reception set up a 17-yard pass to Diggs that capped off the first-half scoring.

In between the Vikings took advantage of the absence of linebacker Kwon Alexander, defensive tackle Chris Baker and cornerback Vernon Hargreaves to connect on a 2-yard quick strike touchdown pass to Jarius Wright.

The Bucs struggled to counter in large part because of their inability to connect on third down, where they were 0-for-4 in the first half, but also because of an interception. On a first-and-10 play from the Vikings 34, Bucs quarterback Jameis Winston underthrew a pass for DeSean Jackson and it was picked off by Trae Waynes in front of the end zone. Winston was picked off twice more in the second half after the Bucs trimmed a 28-3 deficit to just two scores, killing any hopes of a comeback.