Marty Strasen, The Tampa Tribune, published 15 September 2003

Overzealous refs. Inept blocking. Dumb mistakes. A short week. Dress up your explanations for this one however you'd like, but the bottom line is this: The Bucs got exactly what they deserved in a 12-9 overtime loss to the Carolina Panthers. It was something of a blur by the time it was over, as if three days had passed since the pregame ceremony honoring Tampa Bay's Super Bowl victory. Carolina led 6-0 at halftime. And if you thought that was ugly, you might not want to re- live the first possession of the second half. In case you do: Nate Webster drew a roughing-the-quarterback flag to get the horror flick rolling. Warren Sapp followed with his second 15-yard infraction of the day, though an offsetting Carolina foul undid the damage.

Now at this point, with discipline apparently having been declined, would it not have been worth a timeout for Tampa Bay coach Jon Gruden to get in some faces and put an end to the nonsense? The Bucs are a team that prides itself on its veteran defensive leaders. Sapp. Derrick Brooks. Ronde Barber. John Lynch. Was this not the perfect time for someone - anyone? - to demonstrate leadership?

Instead, the Bucs kept right on following. Brooks and Ellis Wyms were flagged for unnecessary roughness on the same play. Or, to be more accurate, after the same play. That led to a John Kasay field goal on a drive plagued by four Bucs personal fouls. Some way to start a half.

A few minutes later, Tim Wansley tugged a facemask on a Carolina punt return and the 15-yard brigade rolled on. Roman Oben was flagged for a personal foul later in the quarter that was declined in favor of a Bucs punt. You've heard of ``three yards and a cloud of dust,'' Woody Hayes' old coaching mantra? Sunday, the Bucs mastered ``15 yards and a big-time bust.'' They finished the game with a staggering 17 penalties for 168 yards - just three flags short of the 1976 team record. ``We didn't play very smart at times,'' Sapp said.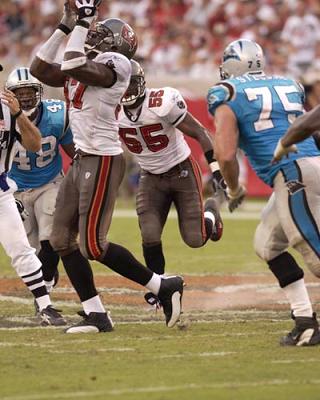 And still, the Bucs had a chance to pull off one of the most memorable wins in their history. You probably know the timeline by now. With no timeouts, Johnson engineered what would have forever become known as the Bucs' version of ``The Drive'' in the final 1:49 of regulation time, if only they could have executed a simple extra point for the victory. Johnson hit Karl Williams for 43 yards. He found Michael Pittman for back-to-back first downs. Keyshawn Johnson dropped a would-be touchdown but made a tough, 17- yard grab on the very next play, setting up one final snap from the 6-yard line.

Keenan McCardell danced along the end line as he squeezed the day's lone touchdown, and the Bucs and their fans erupted in unison as holder Tom Tupa kneeled and Martin Gramatica prepared to break the 9-all tie. Instead, following a Carolina timeout to ``ice'' the kicker (or in this case the offensive linemen), the Bucs got exactly what they deserved. ``I can't comment on who it was,'' Gruden said, referring to the hole that Carolina's Kris Jenkins lunged through to block the PAT - the third blocked Gramatica kick by the Panthers. ``Obviously the middle of the line, they were getting a lot of penetration. They overpowered us and were able to make the play.''

The Panthers made one more game-deciding play in overtime, when Steve Smith returned a punt 52 yards to the Bucs' 40. That, and the last of Stephen Davis' 142 rushing yards, set up Kasay's winning 47-yard field goal with 3:28 on the clock. The Bucs are not a team that cares much about statistics, although their penalty numbers and Davis' rushing total are sure to come up in practice and meetings this week. Their focus is W's and L's, and preferably more of the former than the latter. This is one loss - no more, no less. One loss on one warm and hotly contested Sunday that will be discussed and debated more than the average game. One well-earned loss, at that.