Bucs Got What They Deserved In Ugly Game
Martin Fennelly, The Tampa Tribune, published 15 September 2003

It was probably an honest mistake. Look, did someone forget to give them the news release? Did someone forget to tell our football gods that it was the 2002 Bucs being welcomed home, not the '76 ones? Did someone forget to mention that when you're the king of the world, you act like it in your castle? A crowd came to throw rose petals under their feet. The Bucs wore clown shoes. There was an inflatable Lombardi Trophy on the field during pregame. Almost everything after that was hot air.

The film for this game should be handled only by Hazmat teams. But it had a certain wretched majesty. It was truly incredible. Jon Gruden is fond of saying you get what you deserve in the NFL. And the Bucs got what they richly deserved in an amazing 12-9 overtime loss to Carolina. Oh, boy, did they get what they deserved. Actually, they deserved a laugh track. The only point that needs to be made about this game is the only point that needed to be made. All the defending Super Bowl champions needed to win a home opener that they had no business winning was an extra point. One kick. One point.

The clock was out of time in regulation. The miracle was done. Brad Johnson and Keenan McCardell had saved the day. Saved Keyshawn's drop. Saved the Keystone kicking team. People would forget the mistakes, the penalties, the whole sordid exercise. All they'd remember is another W for the champs. An extra point. One kick. One point. ``We looked like Super Bowl chumps,'' Keyshawn Johnson said.

The Bucs thought it was over. We thought it was over. But as you know, it's not over until the Fat Lady decides to run the ball on third- and-15 from the Carolina 41 in overtime, loses a yard, punts to Carolina, which runs it back a ways, then kicks the winning field goal. So much for 16-0.

Before you select proper mourning attire or simply start screaming - would you like to do a duet with Gruden when he gets his voice back? - remember that the Bucs began last season 1-1. They also began last season with an equally cosmic overtime loss - remember punter Tom Tupa, in the grasp, throwing an interception in his own end zone? So keep Sunday in perspective. On the other hand, the Bucs' ridiculously good defense hasn't allowed a touchdown in two games, but the Bucs have won only one of them. On the other hand, the Bucs displayed all the discipline of last- call louts, with six personal fouls - five enforced, one offsetting ... 17 penalties in all, just three short of the single-game franchise record held by the immortal 0-14ers of 1976.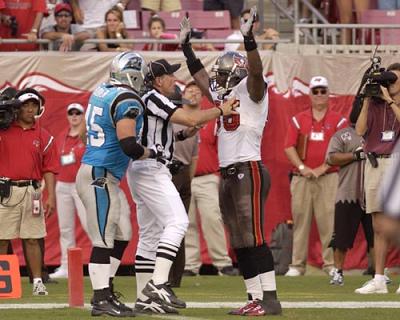 On the other hand - hey, we've run out of hands - there was that black hole of a running and blocking game. And there's this tidbit: Joe Jurevicius sprained his right knee. He'll be out at least a month. Naturally, the Bucs were penalized for holding on the play. Gruden wanted to hide. Not even misery would have loved his company Sunday night. Is this the Chucky face that launched a thousand pirate ships? Understand: Martin Gramatica place-kicked four times. Three of the kicks, two field goals and that extra point, were blocked. Carolina broke through a Bucs wall of Jell-O. Was this old-time Bucs religion or what? All that was missing was the Neil O'Donoghue whiff kick. Let's go over it again. Four kicks, three blocks.

It was so bad it pretty much erased memories of that final Bucs drive in regulation, only one of the greatest in club history, led by Brad Johnson, forced into a club- record 61 throws, despite an injured groin. There was Karl Williams stepping up for a big catch and run, and Keyshawn coming right back after his TD drop to make a grab, and finally McCardell, who made the catch and got his feet down in the end zone to win the game!

Except it didn't. Yeah, that kind of day. It was left to Carolina to howl. ``If this was the last game, I guess I'd be going to Disney World,'' said Panthers defensive tackle Kris Jenkins, who blocked Gramatica's extra-point try. Uh, this wasn't the last game. There are 14 left, maybe more. The Bucs won 15 times last season. They won it all.

Funny, they played a 12-9 game against Carolina just last October. In the eighth week, coming off a loss at Philadelphia, the Bucs went to Charlotte. Brad Johnson was hurt, but the defense stood on the wall and Gramatica made four field goals - no blocks - and the Bucs won. Even in San Diego, they pointed to that 12-9 as a character builder. A key game. Will 9-12 resonate as loudly? What will the Bucs take from it? The choice is simple. Champs or chumps.