'Scary' Webster Thrives In The Middle Of Things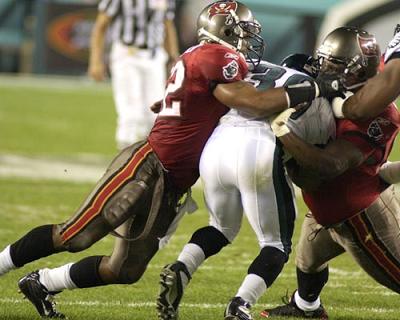 The Tampa Tribune, published 9 September 2003

The Bucs knew what they were getting in linebacker Nate Webster when they drafted him four years ago out of the University of Miami. It wasn't long before the rest of the world knew, too. ``I can't wait to get down there and rip somebody's head off,'' Webster said by telephone to the Tampa Bay media on draft day 2000.

A little more than three years later, Webster finally is getting his chance to rip heads off on a regular basis. With Shelton Quarles sidelined with a broken left forearm, Webster has taken over as the Bucs' starting middle linebacker. Even as a part-timer, Webster proved in the past four seasons that his bite truly is as nasty as his bark.

He proved it again Monday night, when he took out the Eagles during one second- quarter series in which he stopped Duce Staley for no gain on a first-down running play and then stopped tight end Chad Lewis on second- down passing play. Along with Ryan Nece, a second new starter in the linebacking corps, Webster helped the Bucs blank the Eagles 17-0 Monday night. ``The way that guy plays is just plain scary,'' said a scout from a rival NFC South team. ``I mean, he'll flat out light you up. I love Nate Webster. I'd take a dozen of him on my team any day.''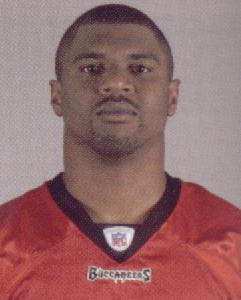 Webster was there for the taking this spring. He was a restricted free agent, and while some teams did express interest in signing him, it was well known the Bucs would match most any offer. ``How can you not love having a guy like Nate Webster on your football team?'' Jon Gruden said. ``Anybody who has that kind of passion for the game ... anybody who plays with that kind of intensity. You've got to love that.''

The Bucs do. But theirs always has been something of a love-hate relationship. While the Bucs love Webster's passion, intensity and skill, they hate his penchant for taking things too far. A notorious trash-talker, Webster's habit of getting into opponents' faces after a play often has pushed the Bucs to the brink of being assessed a taunting or unsportsmanlike conduct penalty. There have even been times when Webster has had to be pulled away from a confrontation with an opponent because he's trash-talking when he is supposed to be getting the defensive call from the sideline. ``What can you say, he's a fiery kind of guy,'' Quarles said. ``But I think he's matured a lot. He knows what he needs to do. Besides, [Derrick] Brooks always does a good job of keeping him under control. He reins him in a little bit.''

Webster said he knew that one of the keys to getting more playing time was to do a better job of controlling his emotions. The other was to learn another position. He did that as well, working part-time at strongside linebacker during training camp. ``Each year I came into the season with a plan, and this year it was to learn a second position,'' he said.

The Bucs didn't need Webster on the strong side, with second-year player Nece emerging to win the job in the preseason. And with Quarles out for an extended time, Webster is now the man in the middle.