How the Buccaneers shut out the Eagles
The Tampa Tribune, published 9 September 2003

The Tampa Bay Buccaneers have had a taste of the ultimate feeling in sports, and they're hungry for more. The Super Bowl champions began defense of their title Monday night with, what else, a suffocating defense. They also got some sharp passing from Brad Johnson and two spectacular touchdown catches by Joe Jurevicius in a 17-0 victory over the Philadelphia Eagles. ``We played the way we expected to play,'' Warren Sapp said. ``Once we got it rolling, you know how we are. We're like sharks with blood in the water. We're coming.''

When they have come to Philadelphia this year, the Bucs have been dominant. Less than eight months after they throttled the Eagles for the NFC championship in the final game at Veterans Stadium, the Bucs moved their act across the street to Lincoln Financial Field. Led by Sapp and fellow defensive linemen Simeon Rice and Greg Spires, the Bucs were as impressive as the $520 million stadium that made its regular-season debut. ``None of us are faint of heart,'' said Rice, who had 1 1/2 sacks. ``This is football. Let them yell, it's all good.''

Not to Eagles fans when the Bucs are in town. ``Philly fans will definitely remember us for a lot of years,'' Johnson said.

Never allowing Donovan McNabb and the Eagles any breathing room, the Bucs showed the kind of balance that made them champions for the first time. They shut down the running lanes and befuddled McNabb, who finished 19-for-36 for 148 yards. Philadelphia gained 245 yards overall, much of it in garbage time. ``It's kind of hard not to think about last year,'' McNabb admitted. ``Everyone talks about it so much and then we had to wait until now to play the game.''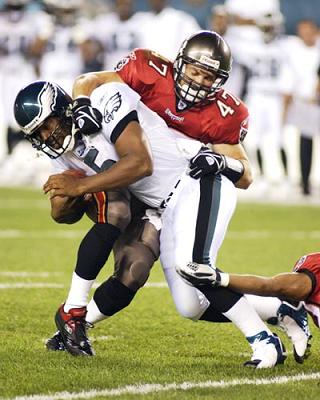 They didn't play it very well as Tampa Bay, which ended the 2002 season with a 15-0 win at Chicago, got its second successive regular-season shutout. Sapp even got into the act on offense, making a 14-yard fourth-quarter reception on which he faked out two Eagles to get to the Philadelphia 11-yard line. After his first career catch, Sapp made an exaggerated first-down signal, the final insult to the quiet fans who expected so much more from their team. ``He could start at tight end for a lot of teams,'' Johnson said. ``He brings something to our huddle. I am glad he is on our side.''

Jurevicius finished that drive with a brilliant 7-yard TD catch for his second score of the night. Jurevicius tipped a high pass into the air at the 2, slipped around a defender and made a lunging reception in the end zone for a 17-0 lead. Johnson was 13-of-14 in the second half for 119 yards and both TDs. He hit Jurevicius on a 13-yard score to cap a 12-play, 80-yard drive in the third period. Jurevicius leaped in the corner of the end zone for Johnson's pinpoint pass and caught it while barely tiptoeing inbounds for the touchdown. Eagles coach Andy Reid challenged the call, but it was upheld.

A 40-minute pregame celebration for the new building was about all the excitement the locals got. The Eagles even brought out Philadelphia's favorite fictional hero, ``Rocky.'' Sylvester Stallone, wearing a No. 22 Eagles jersey, wildly arm-pumped and exhorted the crowd into a frenzy. Then the Bucs put on the silencer. Early on, the game had a preseason look, not that of a prime-time showcase rematch of January's NFC championship game. Penalties and missed assignments easily outnumbered big plays. But when the Bucs got going, they left no doubt that the Eagles -- and probably every other NFL team -- have much catching up to do.

Philadelphia actually started well. James Thrash's 47-yard end-around to open Philadelphia's second drive got the ball deep in Tampa Bay territory. A 15-yard pass interference call against star safety John Lynch put the ball at the 1, but the Eagles flopped from there, even failing on a faked field goal. ``It's devastating when you get to the 1 and don't score,'' running back Duce Staley said. It was the last time the Eagles threatened. ``I take the responsibility for our negligence and performance,'' Reid said.

The Bucs took the fever out of the crowd of 67,772 by deflecting Dirk Johnson's punt. Jermaine Phillips tipped it and the ball rolled just 7 yards to the Philadelphia 31. Philadelphia held near its goal line and Martin Gramatica hit from 26 yards early in the second quarter to open the scoring.