Winning Has Only Toughened Gruden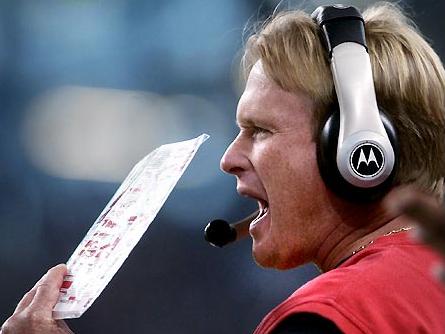 Bill Maaddi, The Associated Press, published 9 September 2003

Jon Gruden tucked his clipboard in his shorts, turned his cap backward, sprinted onto the field and ran a route exactly the way he wanted it done. The receivers weren't doing it the right way, so Gruden, then an offensive coordinator with the Philadelphia Eagles, figured he'd show them himself. ``He's so fiery and very competitive,'' Eagles Pro Bowl cornerback Bobby Taylor said. ``You hear about his work ethic now. We saw it then.''

Eight years later, Gruden is still the same. Even after leading the Bucs to a Super Bowl championship last season, the obsessive-compulsive coach hasn't mellowed. In fact, the win made him tougher. ``He's not as tolerant now with mistakes as he was last year,'' said his All- Pro linebacker, Derrick Brooks. ``Guys were just learning the system then. Now if you make a mistake, or you're doing something wrong, he really comes down on you. He's probably a tougher coach this time around because as he says, `To repeat the success we had last year is going to take a little more out of every man,' and it starts with himself.''

Gruden and the Bucs began their title defense Monday night against the Eagles in a rematch of last season's NFC Championship Game. Though he savors Tampa Bay's 48-21 victory against Oakland in the Super Bowl, Gruden isn't satisfied with winning one championship. He remembers when he and Eagles coach Andy Reid were assistants in Green Bay. ``The great thing about winning a Super Bowl is no one will ever take that away from you,'' Gruden said. ``I've seen the reunions we used to have in Green Bay where Andy Reid and I would see Ray Nitschke and Paul Hornung, and they're reminiscing about the old days, about winning Super Bowls. I saw that in Oakland. It's just something that will never leave you. But we're all young people here. We're driving forward. We have work to do. Hopefully when our careers are over, we can have a nice reunion and talk about the good old days.''

When Gruden was growing up in Indiana in the mid-1970s, it was difficult for those who knew him to imagine he'd become the youngest coach to win a Super Bowl. Gruden was 6 1/2 months shy of his 40th birthday when the Bucs routed the Raiders last January. ``He was always in trouble. He was a middle child, so he was always fighting with his brothers,'' said Eagles defensive coordinator Jim Johnson, a friend of Gruden's father, Jim. ``He is a very competitive guy. His dad and I were good friends. It seemed like you always had to worry about what Jon was doing. It seemed like he always had a lot of scrapes and fights.''

Gruden never lost his intensity. He throws tantrums on the sidelines, glares at players and officials and his facial expressions are theatrical. Off the field, Gruden is a tireless worker, spending countless hours in his office. He demands attention and perfection from his players, and doesn't settle for any less. ``Jon has so much energy and he brings it every day in practice,'' said Eagles tight end Chad Lewis, a rookie during Gruden's final season as Philadelphia's offensive coordinator in 1997.

After leaving the Eagles, Gruden spent four seasons as the coach of the Oakland Raiders, compiling a 40-28 record, including consecutive playoff appearances in 2000-01. Disappointed by repeated playoff failures, the Buccaneers gave up four high draft picks and $8 million over three years to pry Gruden away from the Raiders before last season. It paid off.