Just Another Dominating Day At The Office For Bucs
Martin Fennelly, The Tampa Tribune, published 9 September 2003

Next contestant, please. The Philadelphia Eagles brought the house against the Bucs on Monday night. And not just the new house, Lincoln Financial Field. Eagles fans in a new stadium. Like a silk hat on a hog. The Eagles brought laser shows and fireworks. They brought a famed Irish tenor who tried to out- Kate Kate Smith with ``God Bless America.'' They brought F-16 flyovers. They even brought Rocky: Sly Stallone appeared on a balcony and revved the throng.

Time to get rid of the demons from last January - as if they could. Time to exorcise the demons, like that Jurevicius guy who burned down Veterans Stadium in the NFC title game. Yeah, that was the mission, to hear Philadelphia players and Philadelphia town. They had a name for this payback season-opener. It was ``Judgment Day.''

Or, as the defending Super Bowl champions referred to it, Sept. 8. Just another day. Business. All business.

Well, they did have fun. Did you see one of the demons late Monday? All of Philadelphia saw it. All of Philadelphia felt it. Say it ain't so. It was Joe.

Did you see Meadowlark Jurevicius on his second touchdown catch? His first one was extraordinary. The second was extraterrestrial. Did you see demon Joe Jurevicius bat that ball, leap behind a Washington Generals defender and make the diving grab in the end zone? Oh, yeah, almost forgot: He planned it that way.

Again there was that eerie silence in Philly. You could almost hear the Eagles and Eagles fans. Shoot us. Shoot us now.

Philadelphia was out to erase last January. This was a big game. The biggest. Or was it? The Bucs were here on business. The champs came to start a season. They did, 17-0. Done. Shutout. Great. Let's go home. Had some fun, sure. We could have sworn they were toying with the Eagles. There was Jurevicius. There was that first-down catch by Warren Sapp. Then they headed for the plane and all those possibilities.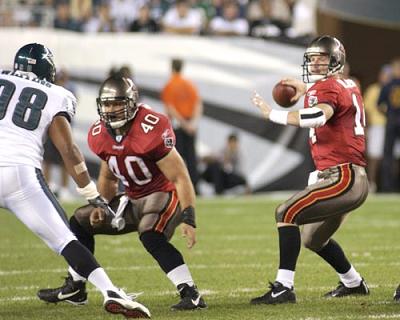 Didn't worry about losing like the Eagles did. Didn't worry about how they won. Did what was needed. Grind it out. Eat clock. Wear them down. Shut them down. Take away the crowd. Add a knife or two between the ribs. All that was missing was a Ronde Barber interception return. One Philly newspaper had featured a full-page shot of the Vince Lombardi Trophy under the word ``NOW.'' Remember those days, Tampa Bay?

The Eagles had to win. And they played like it. They were tight. Donovan McNabb looked as shaky as he did last January. If Jon Gruden and his team played it close to the vest, Eagles coach Andy Reid didn't have a vest. Didn't have any clothes, either (scary thought.) Reid coached as if he was still spooked by last January. He wasn't ready. Nor was his team. Then again, they only had 224 days to prepare.

Did you hear the one about the Super Bowl team that ended its regular season with a shutout, started the next regular season with another shutout. Hey, look, the defense is good again! Well, no joke. Brad Johnson was Brad Johnson and that's never a good thing for the other guys. Did Keyshawn Johnson make a catch that wasn't large? But did the defense blink even once just to show it's human? Once?

Simeon Rice flapped his wings longer than any Eagle. Nate Webster led the team in tackles. The Eagles couldn't score a touchdown - couldn't score a point, though they were first-and-goal at the 1 in the first quarter. Stuffed. Tried a fake field goal. Guy dropped the ball. Funny, but Bucs could have lost this game and moved on. Lost the opener last season. Won a Super Bowl. Lost at Philadelphia last season. Won a Super Bowl.

Why can't they win another? What about Monday said they couldn't? Who will say different? The Packers? The Niners? The Giants? The point is that there are no scary teams right now in the NFC. Except the Bucs. They didn't want to hear that. The defending Super Bowl champions simply wanted to leave what is now their new home away from home and get back to Tampa. Today is just another day. Like Monday in Philadelphia.