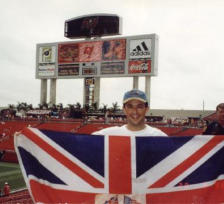 BUCPOWER.COM was launched in
January 2002 and is the most
renowned Bucs fan site in the
world. It has now exceeded 10
million hits since its launch and is
the definitive resource site about
the franchise with every player
and game featured within its
pages. The site has always been
free to access and now has over 5,500 different screens
and over 14,000 images dating back to the first
appearance n 1976 and is run from England by long-time
Buc fan and team historian Paul Stewart.
BUCPOWER ON FACEBOOK
Hundreds of Bucs fans around the world have linked
in with this site through social media and you can
too. Simply search on Facebook for

Buc Power

and
send a friend request. Then you can see the daily
video highlights that we add there as well as looking
back at ones added in the past.
IMPORTANT NOTE
Although this site is produced from the UK, it
has no involvement or association with any
other British-based Buccaneer organisation and
would advise any Tampa Bay fan around the
world to adopt the same policy.
WHO WERE THE 100?
The countdown was completed
in mid-August but where were
your favourite players in the All-Time Greatest
100 Buccaners Feature?
Click here for the full countdown
ON THIS DAY IN BUCCANEER HISTORY
Sept 19, 1999 - Giving Donovan a rude welcome
Click here for the game reports and video highlights from this game
Tampa Bay Buccaneers 19 Philadelphia Eagles 5
Of all the teams you really did not want to face on your NFL debut, the Tampa defense
of the late 1990s was top of that list as a rookie Donovan McNabb found out to his
dismay. Nine sacks, two interceptions and the future leader of the Eagle offense was
left splattered all over the Veterans Stadium turf. "It's always special when you get a
new quarterback,'' Warren Sapp said. ``It's new meat, you
know.'
Trent Dilfer threw a pair of touchdown passes to calm the
furore over his terrible Week 1 performance against the Giants,
finding Bert Emanuel from 19 yards in the first quarter and
then Mike Alstott from 17 yards out to complete the scoring
with 6:25 remaining.
"I've got to get better. I've got to play better for us to win the
big games," said Dilfer. "And I'll do that. But today, our defense
played great, we ran the ball and we did what we had to do."
THE LATEST UPDATE - THE 1984 SEASON
Behind the scenes on

BUCPOWER.COM

, a lot is going on. The game screens are
all being modified and renovated, a season at a time. A new-look for each game,
more detailed stats, more pictures and video highlights from each one. 10
seasons have already been completed and the latest one to be finished is 1984, a
year that saw one of the best offenses in Buccaneer history.
Click here to visit the new and improved 1984 game screens
This was the year of Kevin House and Gerald Carter,
Jimmie Giles and Steve DeBerg and the emergence of
the greatest all-round offensive threat in franchise
history, the legendary James Wilder. It is only when
you watch games from this year that you truly
appreciate just how good No.32 was for the
Buccaneer offense. He needs to be in the Ring of
Honor sooner rather than later.
1984 always hold special memories for me as not only
have I become friends with so many players on that
team, both offense and defense, but it is the season I
played most often with

Statis Pro

cards. I still have my
1984 set to this day with pictures added to the back of
each cards and a Buccaneer decorated playing field.

Statis Pro

was a great card-
based NFL game that gave you the chance to play as much player strategy as any
modern day

Madden

edition. Great memories indeed.