THE 100 GREATEST BUCCANEER PLAYERS
The ultimate franchise countdown as we travel an odyssey through the 41 seasons of
Buccaneer football to bring you the best ever to wear the orange/white and pewter/red.
16
DAVID LOGAN
Click here for his profile and picture gallery pages
One of the finest people ever to play for the Buccaneers who
made the 1979 team as a 12th round pick and quickly worked his
way into the starting line-up where he stayed for the next seven
and a half seasons. A true nose tackle in the 3-4 formation, he
finished his career ranking 4th in franchise history in sacks. He
went on to work for Buccaneer Radio as a color analyst in the mid
1990s but sadly died at a tragically early age.
Click here to review the selections already made in the countdown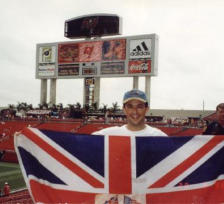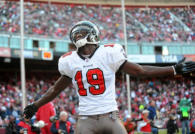 THE PRE-SEASON SCHEDULE
Aug 11
at Cincinnati
7.30pm
WFLA
Aug 17
at Jacksonville
8.00pm
ESPN
Aug 26
v Cleveland
7.30pm
WFLA
Aug 31
v Washington
7.30pm
WFLA
ABOUT THIS SITE
BUCPOWER.COM was launched in January 2002 and is the most renowned Bucs fan site in the
world. It has now exceeded 10 million hits since its launch and is the definitive resource site about
the franchise with every player and game featured within its pages. The site has always been free
to access and now has over 5,500 different screens and over 14,000 images dating back to the first
appearance n 1976 and is run from England by long-time Buc fan and team historian Paul Stewart.
KEY DATES
Jul 25
Rookies report to training camp
Jul 27
Veterans report to training camp
Aug 3
Hall of Fame Weekend begins
Sep 2
Rosters must be reduced to 53 players
BUCPOWER ON FACEBOOK
Hundreds of Bucs fans around the world have linked in with
this site through social media and you can too. Simply
search on Facebook for

Buc Power

and send a friend request.
Then you can see the daily video highlights that we add
there as well as looking back at ones added in the past.
IMPORTANT NOTE
Although this site is produced from the UK, it has
no involvement or association with any other
British-based Buccaneer organisation and would
advise any Tampa Bay fan around the world to
adopt the same policy.