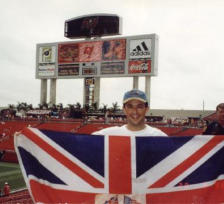 BUCPOWER.COM was launched in
January 2002 and is the most
renowned Bucs fan site in the
world. It has now exceeded 10
million hits since its launch and is
the definitive resource site about
the franchise with every player
and game featured within its
pages. The site has always been
free to access and now has over 5,500 different screens
and over 14,000 images dating back to the first
appearance n 1976 and is run from England by long-time
Buc fan and team historian Paul Stewart.
BUCPOWER ON FACEBOOK
Hundreds of Bucs fans around the world have linked
in with this site through social media and you can
too. Simply search on Facebook for

Buc Power

and
send a friend request. Then you can see the daily
video highlights that we add there as well as looking
back at ones added in the past.
IMPORTANT NOTE
Although this site is produced from the UK, it
has no involvement or association with any
other British-based Buccaneer organisation and
would advise any Tampa Bay fan around the
world to adopt the same policy.
WHO WERE THE 100?
The countdown was completed
in mid-August but where were
your favourite players in the All-Time Greatest
100 Buccaners Feature?
Click here for the full countdown
ON THIS DAY IN BUCCANEER HISTORY
October 17, 1976 - The first Tampa Bay touchdown pass
Click here for the game reports and video highlights from this game
Tampa Bay Buccaneers 10 Seattle Seahawks 13
This was Expansion Bowl as the immobile force met the moveable obstruction.
Two first-year and winless teams going at it inside Tampa Stadium in a game that
probably set the NFL back 20 years as a watchable event. The officials walked off a
total of 310 yards. Of the 41 penalties called (including 16 for holding). 35 were
accepted, making the game the most penalized NFL game in 25 years. The game
was summed up best by Steve Spurrier when he said "We're pretty close to being a
good team, but right now, we're pretty terrible."
The Bucs did record their first-ever touchdown pass in the game but being the
expansion Bucs, it was anything but normal. RB Louis Carter was stopped short by
Seattle defenders, so he turned and shovelled the ball to WR Moms Owens who
stepped into the endzone cutting the Seahawks' lead to 13-10. With one final
chance, Tampa Bay drove into Seattle territory. With less than a minute to go, Dave
Green lined up for a 35-yard field goal attempt that would send the game into
overtime. Mike Curtis blocked the kick to save the game for Seattle, and possibly
the fans, who probably couldn't take any more.
RIP KEVIN CADLE
Devasting NFL news - Kevin Cadle, my long-time friend and co-host when I
worked on the NFL coverage at Sky Sports has passed away. I knew he
was ill but did not realise it was this bad. He was a great basketball coach
and a tremendous colleague on set at Isleworth.
Many tributes have been paid in the world of the NFL UK with Mike
Carlson writing a wonderful piece about the dangers of working live with
Kev and being "Cadled", something I remember well. Neil Reynolds has
also done a very moving video tribute which can be found on the main
NFL UK site. Something is also being prepared for this Sunday's NFL
game at Twickenham to pay tribute to Kevin.
He was not a natural presenter when he first started but he grew into the
anchor role over the years until the point where it was not the same
without him. And it never will be again. RIP Big Man.