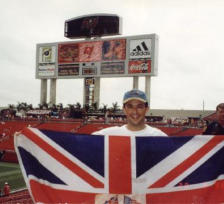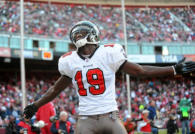 THE PRE-SEASON SCHEDULE
Aug 11
at Cincinnati
Lost 12-23
Aug 17
at Jacksonville
Won 12-8
Aug 26
v Cleveland
7.30pm
WFLA
Aug 31
v Washington
7.30pm
WFLA
ABOUT THIS SITE
BUCPOWER.COM was launched in January 2002 and is the most renowned Bucs fan site in the
world. It has now exceeded 10 million hits since its launch and is the definitive resource site about
the franchise with every player and game featured within its pages. The site has always been free
to access and now has over 5,500 different screens and over 14,000 images dating back to the first
appearance n 1976 and is run from England by long-time Buc fan and team historian Paul Stewart.
ROSTER MOVES
Aug 13 - Signed K Zach Hocker
Aug 12 - Released K Roberto Aguayo.
Aug 2 - Waived WR Jhajaun Sales (injured). Signed
WR Shaq Hill.
BUCPOWER ON FACEBOOK
Hundreds of Bucs fans around the world have linked in with
this site through social media and you can too. Simply
search on Facebook for

Buc Power

and send a friend request.
Then you can see the daily video highlights that we add
there as well as looking back at ones added in the past.
IMPORTANT NOTE
Although this site is produced from the UK, it
has no involvement or association with any
other British-based Buccaneer organisation
and would advise any Tampa Bay fan around
the world to adopt the same policy.
Regular editorials on the Bucs and
Hard Knocks will come on this site
next week but a few early thoughts
from having watched Episode 2 with
my wife. Gerald McCoy is a true
team leader but does it in a different
way to Jameis. I have Michael
Husted's number if the Bucs are still
that desperate for a kicker. Riley
Bullough is your typical Hard Knocks
unknown rookie feature who will
never be heard from again after he
is cut in two weeks time.
ON THIS DAY
One of my favourite pre-season stories from
the 1989 win over the Falcons. Undrafted
rookie DB Kermit Kendrick returned a pick late
in the 27-0 win for a touchdown and was
shortly after released, never to play again.
Some 20+ years later, a British guy contacts
him at his legal practice in Alabama offering
him the clip of the play for free. Kermit was
truly stunned to see his greatest football
moment again and promised to bore his
friends, family and colleagues to death showing
them the play from the Bucs' exhibition season.
This is what BUCPOWER is all about - bringing
good memories of the franchise to fans and
former players around the world.